user warning: Table './active5_foxes/cache_filter' is marked as crashed and should be repaired query: SELECT data, created, headers, expire, serialized FROM cache_filter WHERE cid = '2:58b122b521b22eb8c75a9d519343bef9' in /home/active5/public_html/drupal6_multisite/includes/cache.inc on line 25.
user warning: Table './active5_foxes/cache_filter' is marked as crashed and should be repaired query: UPDATE cache_filter SET data = '<p class=\"rtecenter\"><img alt=\"\" src=\"http://www.catchingfoxes.com/sites/www.catchingfoxes.com/files/resize/blog/IMG_2635_0-400x300.jpg\" style=\"border-top-width: 5px; border-right-width: 5px; border-bottom-width: 5px; border-left-width: 5px; border-top-style: solid; border-right-style: solid; border-bottom-style: solid; border-left-style: solid; margin-left: 10px; margin-right: 10px; margin-top: 10px; margin-bottom: 10px; width: 400px; height: 300px; \" title=\"\" width=\"400\" height=\"300\" /></p>\n<p>I haven&#39;t had much time to blog lately, because I&#39;ve been sitting in that chair way past midnight most nights surrounded by books and coffee. &nbsp;Just today,&nbsp;I checked another stack of books out of the college library. &nbsp;The sophomore behind the counter stamped the return date on the inside cover. &quot;These are due back in three weeks - May 7th,&quot; she said. &nbsp;I literally gulped. &nbsp;That&#39;s finals week. &nbsp;Just three weeks away? &nbsp;Oh gosh!</p>\n', created = 1566054517, expire = 1566140917, headers = '', serialized = 0 WHERE cid = '2:58b122b521b22eb8c75a9d519343bef9' in /home/active5/public_html/drupal6_multisite/includes/cache.inc on line 108.
user warning: Table './active5_foxes/cache_filter' is marked as crashed and should be repaired query: SELECT data, created, headers, expire, serialized FROM cache_filter WHERE cid = '2:58b122b521b22eb8c75a9d519343bef9' in /home/active5/public_html/drupal6_multisite/includes/cache.inc on line 25.
user warning: Table './active5_foxes/cache_filter' is marked as crashed and should be repaired query: UPDATE cache_filter SET data = '<p class=\"rtecenter\"><img alt=\"\" src=\"http://www.catchingfoxes.com/sites/www.catchingfoxes.com/files/resize/blog/IMG_2635_0-400x300.jpg\" style=\"border-top-width: 5px; border-right-width: 5px; border-bottom-width: 5px; border-left-width: 5px; border-top-style: solid; border-right-style: solid; border-bottom-style: solid; border-left-style: solid; margin-left: 10px; margin-right: 10px; margin-top: 10px; margin-bottom: 10px; width: 400px; height: 300px; \" title=\"\" width=\"400\" height=\"300\" /></p>\n<p>I haven&#39;t had much time to blog lately, because I&#39;ve been sitting in that chair way past midnight most nights surrounded by books and coffee. &nbsp;Just today,&nbsp;I checked another stack of books out of the college library. &nbsp;The sophomore behind the counter stamped the return date on the inside cover. &quot;These are due back in three weeks - May 7th,&quot; she said. &nbsp;I literally gulped. &nbsp;That&#39;s finals week. &nbsp;Just three weeks away? &nbsp;Oh gosh!</p>\n', created = 1566054517, expire = 1566140917, headers = '', serialized = 0 WHERE cid = '2:58b122b521b22eb8c75a9d519343bef9' in /home/active5/public_html/drupal6_multisite/includes/cache.inc on line 108.
user warning: Table './active5_foxes/cache_filter' is marked as crashed and should be repaired query: SELECT data, created, headers, expire, serialized FROM cache_filter WHERE cid = '2:a60a008547f7924bb134181fcfb0e175' in /home/active5/public_html/drupal6_multisite/includes/cache.inc on line 25.
user warning: Table './active5_foxes/cache_filter' is marked as crashed and should be repaired query: UPDATE cache_filter SET data = '<p class=\"rtecenter\"><img alt=\"\" src=\"http://www.catchingfoxes.com/sites/www.catchingfoxes.com/files/resize/blog/IMG_2592-486x365.jpg\" style=\"border-width: 5px; border-style: solid; margin: 10px; width: 486px; height: 365px;\" title=\"\" width=\"486\" height=\"365\" /></p>\n<p>We gather four times around the table today. &nbsp;Waiting until everyone is there. Waiting to give thanks for our food. &nbsp;It all takes hours. &nbsp;The preparing, the serving, the waiting. Breakfast. Lunch. Dinner. Dessert - which happens hours later when a pie comes out of the oven. &nbsp;This eating stuff has taken my day.</p>\n<p><strong><span style=\"font-size:14px;\">I am tired.</span></strong></p>\n<p>I sit on the fireplace edge, not committing to conversation with the men at the table. &nbsp;Three generations laugh, joke, talk. &nbsp;First basketball, trucks, and then the welding project happening in the garage. &nbsp;I wait. &nbsp;My coffee is too hot. &nbsp;The house is hot after baking the pie. &nbsp;</p>\n', created = 1566054517, expire = 1566140917, headers = '', serialized = 0 WHERE cid = '2:a60a008547f7924bb134181fcfb0e175' in /home/active5/public_html/drupal6_multisite/includes/cache.inc on line 108.
user warning: Table './active5_foxes/cache_filter' is marked as crashed and should be repaired query: SELECT data, created, headers, expire, serialized FROM cache_filter WHERE cid = '2:a60a008547f7924bb134181fcfb0e175' in /home/active5/public_html/drupal6_multisite/includes/cache.inc on line 25.
user warning: Table './active5_foxes/cache_filter' is marked as crashed and should be repaired query: UPDATE cache_filter SET data = '<p class=\"rtecenter\"><img alt=\"\" src=\"http://www.catchingfoxes.com/sites/www.catchingfoxes.com/files/resize/blog/IMG_2592-486x365.jpg\" style=\"border-width: 5px; border-style: solid; margin: 10px; width: 486px; height: 365px;\" title=\"\" width=\"486\" height=\"365\" /></p>\n<p>We gather four times around the table today. &nbsp;Waiting until everyone is there. Waiting to give thanks for our food. &nbsp;It all takes hours. &nbsp;The preparing, the serving, the waiting. Breakfast. Lunch. Dinner. Dessert - which happens hours later when a pie comes out of the oven. &nbsp;This eating stuff has taken my day.</p>\n<p><strong><span style=\"font-size:14px;\">I am tired.</span></strong></p>\n<p>I sit on the fireplace edge, not committing to conversation with the men at the table. &nbsp;Three generations laugh, joke, talk. &nbsp;First basketball, trucks, and then the welding project happening in the garage. &nbsp;I wait. &nbsp;My coffee is too hot. &nbsp;The house is hot after baking the pie. &nbsp;</p>\n', created = 1566054517, expire = 1566140917, headers = '', serialized = 0 WHERE cid = '2:a60a008547f7924bb134181fcfb0e175' in /home/active5/public_html/drupal6_multisite/includes/cache.inc on line 108.
user warning: Table './active5_foxes/cache_filter' is marked as crashed and should be repaired query: SELECT data, created, headers, expire, serialized FROM cache_filter WHERE cid = '2:5bb8a572751f50239ee83c2d98c09ae8' in /home/active5/public_html/drupal6_multisite/includes/cache.inc on line 25.
user warning: Table './active5_foxes/cache_filter' is marked as crashed and should be repaired query: UPDATE cache_filter SET data = '<p><img alt=\"\" src=\"http://www.catchingfoxes.com/sites/www.catchingfoxes.com/files/resize/blog/IMG_2566-300x206.jpg\" style=\"border-top-width: 5px; border-right-width: 5px; border-bottom-width: 5px; border-left-width: 5px; border-top-style: solid; border-right-style: solid; border-bottom-style: solid; border-left-style: solid; margin-left: 10px; margin-right: 10px; margin-top: 10px; margin-bottom: 10px; float: left; width: 300px; height: 206px; \" title=\"\" width=\"300\" height=\"206\" /><strong><span style=\"font-size:14px;\">Resentment stirs as soon as I enter the kitchen. </span></strong>&nbsp;Most mornings, I hurry to get his juice, banana, and coffee to the table before he comes out his room. &nbsp;Setting it out before an empty chair seems like I am less a servant, and oddly, easier. &nbsp;Today, I am late.</p>\n', created = 1566054517, expire = 1566140917, headers = '', serialized = 0 WHERE cid = '2:5bb8a572751f50239ee83c2d98c09ae8' in /home/active5/public_html/drupal6_multisite/includes/cache.inc on line 108.
user warning: Table './active5_foxes/cache_filter' is marked as crashed and should be repaired query: SELECT data, created, headers, expire, serialized FROM cache_filter WHERE cid = '2:5bb8a572751f50239ee83c2d98c09ae8' in /home/active5/public_html/drupal6_multisite/includes/cache.inc on line 25.
user warning: Table './active5_foxes/cache_filter' is marked as crashed and should be repaired query: UPDATE cache_filter SET data = '<p><img alt=\"\" src=\"http://www.catchingfoxes.com/sites/www.catchingfoxes.com/files/resize/blog/IMG_2566-300x206.jpg\" style=\"border-top-width: 5px; border-right-width: 5px; border-bottom-width: 5px; border-left-width: 5px; border-top-style: solid; border-right-style: solid; border-bottom-style: solid; border-left-style: solid; margin-left: 10px; margin-right: 10px; margin-top: 10px; margin-bottom: 10px; float: left; width: 300px; height: 206px; \" title=\"\" width=\"300\" height=\"206\" /><strong><span style=\"font-size:14px;\">Resentment stirs as soon as I enter the kitchen. </span></strong>&nbsp;Most mornings, I hurry to get his juice, banana, and coffee to the table before he comes out his room. &nbsp;Setting it out before an empty chair seems like I am less a servant, and oddly, easier. &nbsp;Today, I am late.</p>\n', created = 1566054517, expire = 1566140917, headers = '', serialized = 0 WHERE cid = '2:5bb8a572751f50239ee83c2d98c09ae8' in /home/active5/public_html/drupal6_multisite/includes/cache.inc on line 108.
user warning: Table './active5_foxes/cache_filter' is marked as crashed and should be repaired query: SELECT data, created, headers, expire, serialized FROM cache_filter WHERE cid = '2:20dfc9dc7d69b4f56a0a7cdf58a1605b' in /home/active5/public_html/drupal6_multisite/includes/cache.inc on line 25.
user warning: Table './active5_foxes/cache_filter' is marked as crashed and should be repaired query: UPDATE cache_filter SET data = '<p><img alt=\"\" src=\"http://www.catchingfoxes.com/sites/www.catchingfoxes.com/files/resize/blog/IMG_5708_0-486x365.JPG\" style=\"border-width: 5px; border-style: solid; margin: 10px; float: left; width: 486px; height: 365px;\" width=\"486\" height=\"365\" /></p>\n<p>&nbsp;</p>\n', created = 1566054517, expire = 1566140917, headers = '', serialized = 0 WHERE cid = '2:20dfc9dc7d69b4f56a0a7cdf58a1605b' in /home/active5/public_html/drupal6_multisite/includes/cache.inc on line 108.
user warning: Table './active5_foxes/cache_filter' is marked as crashed and should be repaired query: SELECT data, created, headers, expire, serialized FROM cache_filter WHERE cid = '2:20dfc9dc7d69b4f56a0a7cdf58a1605b' in /home/active5/public_html/drupal6_multisite/includes/cache.inc on line 25.
user warning: Table './active5_foxes/cache_filter' is marked as crashed and should be repaired query: UPDATE cache_filter SET data = '<p><img alt=\"\" src=\"http://www.catchingfoxes.com/sites/www.catchingfoxes.com/files/resize/blog/IMG_5708_0-486x365.JPG\" style=\"border-width: 5px; border-style: solid; margin: 10px; float: left; width: 486px; height: 365px;\" width=\"486\" height=\"365\" /></p>\n<p>&nbsp;</p>\n', created = 1566054517, expire = 1566140917, headers = '', serialized = 0 WHERE cid = '2:20dfc9dc7d69b4f56a0a7cdf58a1605b' in /home/active5/public_html/drupal6_multisite/includes/cache.inc on line 108.
user warning: Table './active5_foxes/cache_filter' is marked as crashed and should be repaired query: SELECT data, created, headers, expire, serialized FROM cache_filter WHERE cid = '2:97454b23faf2cbdde169594ab11fd87e' in /home/active5/public_html/drupal6_multisite/includes/cache.inc on line 25.
user warning: Table './active5_foxes/cache_filter' is marked as crashed and should be repaired query: UPDATE cache_filter SET data = '<p>I settle my teen sons into their dental cleaning appointments. &nbsp;They are tilted back, mouths open.&nbsp;I have been anticipating these quiet moments of independence all day. My bag, packed with my bible, my study for the week, and an edify book is flung over my shoulder. &nbsp;I set out on foot to find an iced coffee with some sweet flavoring. &nbsp;Fifteen minutes later, I plant myself on a park bench.</p>\n<p>I don&#39;t settle often enough. &nbsp;When there are graduation announcements to mail, I can get caught up in the production. When there are packing lists for summer adventures to look over, classes to study for, and lectures to prepare, I make those a bigger priority than settling. &nbsp;And the guilt of that, of not taking time to meet with the One I love, piles on top of the guilt of a raised voice, an impatient glance, a snapped response. &nbsp;I need to quiet. &nbsp;I need my soul quenched. &nbsp;Maybe even moments of my day erased.&nbsp;I settle. &nbsp;</p>\n', created = 1566054517, expire = 1566140917, headers = '', serialized = 0 WHERE cid = '2:97454b23faf2cbdde169594ab11fd87e' in /home/active5/public_html/drupal6_multisite/includes/cache.inc on line 108.
user warning: Table './active5_foxes/cache_filter' is marked as crashed and should be repaired query: SELECT data, created, headers, expire, serialized FROM cache_filter WHERE cid = '2:97454b23faf2cbdde169594ab11fd87e' in /home/active5/public_html/drupal6_multisite/includes/cache.inc on line 25.
user warning: Table './active5_foxes/cache_filter' is marked as crashed and should be repaired query: UPDATE cache_filter SET data = '<p>I settle my teen sons into their dental cleaning appointments. &nbsp;They are tilted back, mouths open.&nbsp;I have been anticipating these quiet moments of independence all day. My bag, packed with my bible, my study for the week, and an edify book is flung over my shoulder. &nbsp;I set out on foot to find an iced coffee with some sweet flavoring. &nbsp;Fifteen minutes later, I plant myself on a park bench.</p>\n<p>I don&#39;t settle often enough. &nbsp;When there are graduation announcements to mail, I can get caught up in the production. When there are packing lists for summer adventures to look over, classes to study for, and lectures to prepare, I make those a bigger priority than settling. &nbsp;And the guilt of that, of not taking time to meet with the One I love, piles on top of the guilt of a raised voice, an impatient glance, a snapped response. &nbsp;I need to quiet. &nbsp;I need my soul quenched. &nbsp;Maybe even moments of my day erased.&nbsp;I settle. &nbsp;</p>\n', created = 1566054517, expire = 1566140917, headers = '', serialized = 0 WHERE cid = '2:97454b23faf2cbdde169594ab11fd87e' in /home/active5/public_html/drupal6_multisite/includes/cache.inc on line 108.
user warning: Table './active5_foxes/cache_filter' is marked as crashed and should be repaired query: SELECT data, created, headers, expire, serialized FROM cache_filter WHERE cid = '2:b11788ee084e1192477235c2205f52a0' in /home/active5/public_html/drupal6_multisite/includes/cache.inc on line 25.
user warning: Table './active5_foxes/cache_filter' is marked as crashed and should be repaired query: UPDATE cache_filter SET data = '<p><img alt=\"\" src=\"http://www.catchingfoxes.com/sites/www.catchingfoxes.com/files/blog/IMG_0080.jpg\" style=\"margin-left: 10px; margin-right: 10px; margin-top: 15px; margin-bottom: 15px; width: 400px; height: 300px; \" title=\"\" width=\"400\" height=\"300\" /></p>\n<p>There&nbsp;are many moments of my life &nbsp;I wish I could relive. &nbsp;My wedding day. &nbsp;The days each of my children were born. An afternoon in the&nbsp;garden with my mother-in-law. Days of sweetness and love.</p>\n<p>There are moments of my life I don&#39;t ever what to relive. &nbsp;Today one rained down into my life again. <span style=\"color:#666600;\">&nbsp;<span style=\"font-size:16px;\">A haunting of brokenness</span>.</span> &nbsp;A feeling so real and painful and raw, I wanted to run.&nbsp;</p>\n<p>Where does one run <span style=\"font-size:16px;\"><span style=\"color:#666600;\">when past pain floods the now</span></span>? &nbsp;</p>\n', created = 1566054517, expire = 1566140917, headers = '', serialized = 0 WHERE cid = '2:b11788ee084e1192477235c2205f52a0' in /home/active5/public_html/drupal6_multisite/includes/cache.inc on line 108.
user warning: Table './active5_foxes/cache_filter' is marked as crashed and should be repaired query: SELECT data, created, headers, expire, serialized FROM cache_filter WHERE cid = '2:b11788ee084e1192477235c2205f52a0' in /home/active5/public_html/drupal6_multisite/includes/cache.inc on line 25.
user warning: Table './active5_foxes/cache_filter' is marked as crashed and should be repaired query: UPDATE cache_filter SET data = '<p><img alt=\"\" src=\"http://www.catchingfoxes.com/sites/www.catchingfoxes.com/files/blog/IMG_0080.jpg\" style=\"margin-left: 10px; margin-right: 10px; margin-top: 15px; margin-bottom: 15px; width: 400px; height: 300px; \" title=\"\" width=\"400\" height=\"300\" /></p>\n<p>There&nbsp;are many moments of my life &nbsp;I wish I could relive. &nbsp;My wedding day. &nbsp;The days each of my children were born. An afternoon in the&nbsp;garden with my mother-in-law. Days of sweetness and love.</p>\n<p>There are moments of my life I don&#39;t ever what to relive. &nbsp;Today one rained down into my life again. <span style=\"color:#666600;\">&nbsp;<span style=\"font-size:16px;\">A haunting of brokenness</span>.</span> &nbsp;A feeling so real and painful and raw, I wanted to run.&nbsp;</p>\n<p>Where does one run <span style=\"font-size:16px;\"><span style=\"color:#666600;\">when past pain floods the now</span></span>? &nbsp;</p>\n', created = 1566054517, expire = 1566140917, headers = '', serialized = 0 WHERE cid = '2:b11788ee084e1192477235c2205f52a0' in /home/active5/public_html/drupal6_multisite/includes/cache.inc on line 108.
user warning: Table './active5_foxes/cache_filter' is marked as crashed and should be repaired query: SELECT data, created, headers, expire, serialized FROM cache_filter WHERE cid = '2:a853c524be77bd951b1e6cff29650461' in /home/active5/public_html/drupal6_multisite/includes/cache.inc on line 25.
user warning: Table './active5_foxes/cache_filter' is marked as crashed and should be repaired query: UPDATE cache_filter SET data = '<p><img alt=\"\" src=\"http://www.catchingfoxes.com/sites/www.catchingfoxes.com/files/resize/blog/IMG_5654_2-250x167.JPG\" style=\"border-top-width: 5px; border-right-width: 5px; border-bottom-width: 5px; border-left-width: 5px; border-top-style: solid; border-right-style: solid; border-bottom-style: solid; border-left-style: solid; margin-left: 10px; margin-right: 10px; margin-top: 10px; margin-bottom: 10px; width: 250px; height: 167px; \" width=\"250\" height=\"167\" /></p>\n', created = 1566054517, expire = 1566140917, headers = '', serialized = 0 WHERE cid = '2:a853c524be77bd951b1e6cff29650461' in /home/active5/public_html/drupal6_multisite/includes/cache.inc on line 108.
user warning: Table './active5_foxes/cache_filter' is marked as crashed and should be repaired query: SELECT data, created, headers, expire, serialized FROM cache_filter WHERE cid = '2:a853c524be77bd951b1e6cff29650461' in /home/active5/public_html/drupal6_multisite/includes/cache.inc on line 25.
user warning: Table './active5_foxes/cache_filter' is marked as crashed and should be repaired query: UPDATE cache_filter SET data = '<p><img alt=\"\" src=\"http://www.catchingfoxes.com/sites/www.catchingfoxes.com/files/resize/blog/IMG_5654_2-250x167.JPG\" style=\"border-top-width: 5px; border-right-width: 5px; border-bottom-width: 5px; border-left-width: 5px; border-top-style: solid; border-right-style: solid; border-bottom-style: solid; border-left-style: solid; margin-left: 10px; margin-right: 10px; margin-top: 10px; margin-bottom: 10px; width: 250px; height: 167px; \" width=\"250\" height=\"167\" /></p>\n', created = 1566054517, expire = 1566140917, headers = '', serialized = 0 WHERE cid = '2:a853c524be77bd951b1e6cff29650461' in /home/active5/public_html/drupal6_multisite/includes/cache.inc on line 108.
user warning: Table './active5_foxes/cache_filter' is marked as crashed and should be repaired query: SELECT data, created, headers, expire, serialized FROM cache_filter WHERE cid = '2:48be9f28bc948ea32b70445d0a590c98' in /home/active5/public_html/drupal6_multisite/includes/cache.inc on line 25.
user warning: Table './active5_foxes/cache_filter' is marked as crashed and should be repaired query: UPDATE cache_filter SET data = '<p class=\"rtecenter\" style=\"\"><a href=\"http://www.facebook.com/CatchingFoxes\" target=\"_blank\"><img alt=\"\" src=\"/sites/www.catchingfoxes.com/files/resize/social/facebook-64x64.png\" style=\"text-align: center; width: 64px; height: 64px; \" width=\"64\" height=\"64\" /></a><a href=\"http://pinterest.com/kimmrankin/\" target=\"_blank\"><img alt=\"\" src=\"/sites/www.catchingfoxes.com/files/resize/social/big-p-button-64x64.png\" style=\"width: 64px; height: 64px; \" width=\"64\" height=\"64\" /></a><a href=\"mailto:kim@catchingfoxes.com\" target=\"_blank\"><img alt=\"\" src=\"/sites/www.catchingfoxes.com/files/resize/social/mail-64x64.png\" style=\"width: 64px; height: 64px; \" width=\"64\" height=\"64\" /></a><a href=\"http://www.catchingfoxes.com/rss.xml\" target=\"_blank\"><img alt=\"\" src=\"/sites/www.catchingfoxes.com/files/resize/social/rss-64x64.png\" style=\"width: 64px; height: 64px; \" width=\"64\" height=\"64\" /></a></p>\n', created = 1566054517, expire = 1566140917, headers = '', serialized = 0 WHERE cid = '2:48be9f28bc948ea32b70445d0a590c98' in /home/active5/public_html/drupal6_multisite/includes/cache.inc on line 108.
user warning: Table './active5_foxes/cache_filter' is marked as crashed and should be repaired query: SELECT data, created, headers, expire, serialized FROM cache_filter WHERE cid = '2:854065b9b61ff8596c8fa62e384317c7' in /home/active5/public_html/drupal6_multisite/includes/cache.inc on line 25.
user warning: Table './active5_foxes/cache_filter' is marked as crashed and should be repaired query: UPDATE cache_filter SET data = '<div class=\"fb-like\" data-font=\"verdana\" data-href=\"http://www.facebook.com/CatchingFoxes\" data-send=\"false\" data-show-faces=\"true\" data-width=\"280\">\n &nbsp;</div>\n', created = 1566054517, expire = 1566140917, headers = '', serialized = 0 WHERE cid = '2:854065b9b61ff8596c8fa62e384317c7' in /home/active5/public_html/drupal6_multisite/includes/cache.inc on line 108.
user warning: Table './active5_foxes/cache_filter' is marked as crashed and should be repaired query: SELECT data, created, headers, expire, serialized FROM cache_filter WHERE cid = '2:602129485ebf5bee3ed24f212c66412c' in /home/active5/public_html/drupal6_multisite/includes/cache.inc on line 25.
user warning: Table './active5_foxes/cache_filter' is marked as crashed and should be repaired query: UPDATE cache_filter SET data = '<SCRIPT charset=\"utf-8\" type=\"text/javascript\" src=\"http://ws.amazon.com/widgets/q?ServiceVersion=20070822&MarketPlace=US&ID=V20070822/US/catcfoxe-20/8001/c4b856b2-bfce-458b-87a4-a444c961a0b1\"> </script><p><NOSCRIPT><A HREF=\"http://ws.amazon.com/widgets/q?ServiceVersion=20070822&amp;MarketPlace=US&amp;ID=V20070822%2FUS%2Fcatcfoxe-20%2F8001%2Fc4b856b2-bfce-458b-87a4-a444c961a0b1&amp;Operation=NoScript\">Amazon.com Widgets</a></noscript></p>\n', created = 1566054517, expire = 1566140917, headers = '', serialized = 0 WHERE cid = '2:602129485ebf5bee3ed24f212c66412c' in /home/active5/public_html/drupal6_multisite/includes/cache.inc on line 108.
user warning: Table './active5_foxes/cache_filter' is marked as crashed and should be repaired query: SELECT data, created, headers, expire, serialized FROM cache_filter WHERE cid = '2:132a8457abcc78748ef29251eaa8f1d7' in /home/active5/public_html/drupal6_multisite/includes/cache.inc on line 25.
user warning: Table './active5_foxes/cache_filter' is marked as crashed and should be repaired query: UPDATE cache_filter SET data = '<p><strong>Catch for us the foxes, the little foxes that ruin the vineyards, our vineyards that are in bloom. </strong><br /><em>Song of Solomon 2:15 NIV</em></p>\n<p>Metaphorically, the &quot;foxes&quot; are the damaging attitudes and actions that can creep in and threaten the love relationship of a couple and a home. &nbsp;Catching Foxes is committed to being a resource as you guard against the things that might injure and destroy the harvest you are striving to grow in your home.</p>\n', created = 1566054517, expire = 1566140917, headers = '', serialized = 0 WHERE cid = '2:132a8457abcc78748ef29251eaa8f1d7' in /home/active5/public_html/drupal6_multisite/includes/cache.inc on line 108.
user warning: Table './active5_foxes/cache_filter' is marked as crashed and should be repaired query: SELECT data, created, headers, expire, serialized FROM cache_filter WHERE cid = '2:fe7b2055d10a2c25c439ca4710d86502' in /home/active5/public_html/drupal6_multisite/includes/cache.inc on line 25.
user warning: Table './active5_foxes/cache_filter' is marked as crashed and should be repaired query: UPDATE cache_filter SET data = '<p><a href=\"mailto:kim@catchingfoxes.com\">kim@catchingfoxes.com</a></p>\n', created = 1566054517, expire = 1566140917, headers = '', serialized = 0 WHERE cid = '2:fe7b2055d10a2c25c439ca4710d86502' in /home/active5/public_html/drupal6_multisite/includes/cache.inc on line 108.
Submitted by kim on Tue, 04/17/2012 - 08:42 in Lessons for Mom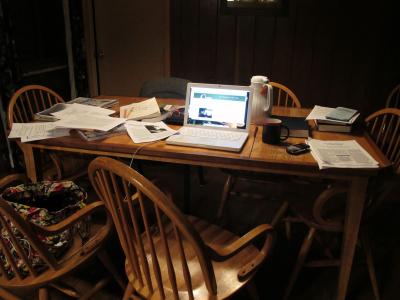 I haven't had much time to blog lately, because I've been sitting in that chair way past midnight most nights surrounded by books and coffee. Just today, I checked another stack of books out of the college library. The sophomore behind the counter stamped the return date on the inside cover. "These are due back in three weeks - May 7th," she said. I literally gulped. That's finals week. Just three weeks away? Oh gosh!
Submitted by kim on Thu, 03/15/2012 - 08:45 in Lessons for Mom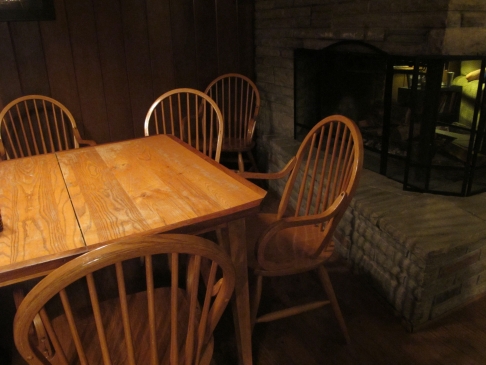 We gather four times around the table today. Waiting until everyone is there. Waiting to give thanks for our food. It all takes hours. The preparing, the serving, the waiting. Breakfast. Lunch. Dinner. Dessert - which happens hours later when a pie comes out of the oven. This eating stuff has taken my day.
I am tired.
I sit on the fireplace edge, not committing to conversation with the men at the table. Three generations laugh, joke, talk. First basketball, trucks, and then the welding project happening in the garage. I wait. My coffee is too hot. The house is hot after baking the pie.
Submitted by kim on Wed, 03/07/2012 - 09:48 in Lessons for Mom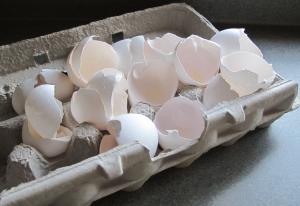 Resentment stirs as soon as I enter the kitchen. Most mornings, I hurry to get his juice, banana, and coffee to the table before he comes out his room. Setting it out before an empty chair seems like I am less a servant, and oddly, easier. Today, I am late.
Submitted by kim on Fri, 03/30/2012 - 15:06 in Character Building, Lessons for Mom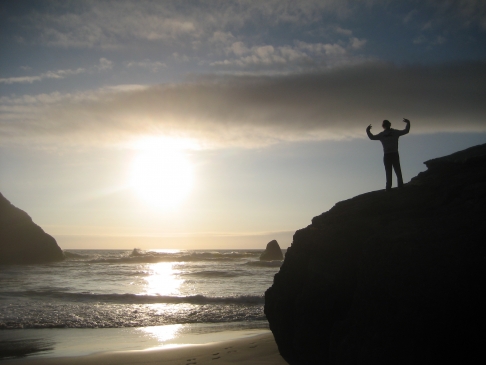 Submitted by kim on Thu, 04/07/2011 - 20:09 in Lessons for Mom
I settle my teen sons into their dental cleaning appointments. They are tilted back, mouths open. I have been anticipating these quiet moments of independence all day. My bag, packed with my bible, my study for the week, and an edify book is flung over my shoulder. I set out on foot to find an iced coffee with some sweet flavoring. Fifteen minutes later, I plant myself on a park bench.
I don't settle often enough. When there are graduation announcements to mail, I can get caught up in the production. When there are packing lists for summer adventures to look over, classes to study for, and lectures to prepare, I make those a bigger priority than settling. And the guilt of that, of not taking time to meet with the One I love, piles on top of the guilt of a raised voice, an impatient glance, a snapped response. I need to quiet. I need my soul quenched. Maybe even moments of my day erased. I settle.
Submitted by kim on Mon, 04/04/2011 - 00:12 in Lessons for Mom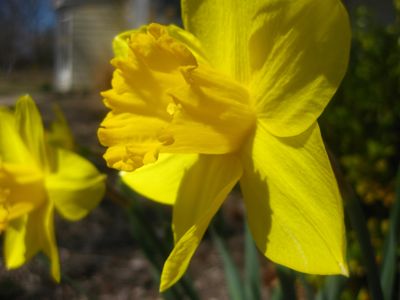 There are many moments of my life I wish I could relive. My wedding day. The days each of my children were born. An afternoon in the garden with my mother-in-law. Days of sweetness and love.
There are moments of my life I don't ever what to relive. Today one rained down into my life again. A haunting of brokenness. A feeling so real and painful and raw, I wanted to run.
Where does one run when past pain floods the now?
Submitted by kim on Tue, 08/03/2010 - 21:54 in Character Building, Lessons for Mom