Submitted by kim on Thu, 03/15/2012 - 08:45 in Lessons for Mom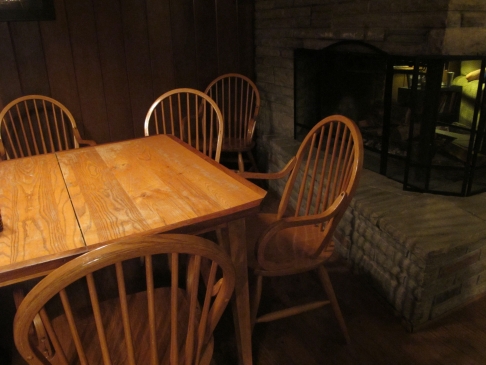 We gather four times around the table today. Waiting until everyone is there. Waiting to give thanks for our food. It all takes hours. The preparing, the serving, the waiting. Breakfast. Lunch. Dinner. Dessert - which happens hours later when a pie comes out of the oven. This eating stuff has taken my day.
I am tired.
I sit on the fireplace edge, not committing to conversation with the men at the table. Three generations laugh, joke, talk. First basketball, trucks, and then the welding project happening in the garage. I wait. My coffee is too hot. The house is hot after baking the pie.
I look at their faces. They enjoy one another, they enjoy being here at this moment over pie. I want to enjoy this. But making it happen has taken so much today.
I know within weeks the opportunity to linger four times around the table in one day will be gone. Sons are leaving soon for summer jobs in far away places. Will someone make them pie? Who will they eat with? I retreat further from the table in preparation of letting them go.
They pass the cool whip. "Where is your piece?" someone asks, nodding to me.
"I don't like pie. I make it for you." My voice tone doesn't imply the pie is a gift.
"I don't like pie either," offers the oldest son at the table. He sees my tiredness. He stopped his welding and came to the table to be with the others while they ate pie. Like me, he eats nothing. Unlike me, he is at the table. "Cheesecake is about the closest thing to pie that I'll eat." He flashes me a smile. A hint. He knows, better than I, that my heart wants this moment. I make a mental note to make him cheesecake before he leaves.
I lean forward, wanting to be at the table now. "I would prefer a piece of chocolate," I say with a smile. Of course, the men know this already; they nod in agreement. We talk. We wait for one another. We eat fruit pie.
Fruit. "Preserving the fruit of life through tough times." My blog subtitle. Ironic. Today, the tough time become the fruit of life.