user warning: Table './active5_foxes/cache_filter' is marked as crashed and should be repaired query: SELECT data, created, headers, expire, serialized FROM cache_filter WHERE cid = '2:2e70b3ec77ab12e35abfa132ba2ec250' in /home/active5/public_html/drupal6_multisite/includes/cache.inc on line 25.
user warning: Table './active5_foxes/cache_filter' is marked as crashed and should be repaired query: UPDATE cache_filter SET data = '<p>It has been a week of backpacks and parks here!</p>\n<p>Josiah left for National Youth Leadership Training on Sunday. The camp is held annually in southern Missouri. We are thankful for the opportunities our boys have to learn about servant leadership through Boy Scouts.</p>\n<p class=\"rtecenter\"><img alt=\"\" src=\"http://www.catchingfoxes.com/sites/www.catchingfoxes.com/files/resize/blog/IMG_3647_0-350x397.jpg\" style=\"width: 350px; height: 397px; border-width: 5px; border-style: solid; margin: 10px;\" title=\"\" width=\"350\" height=\"397\" /></p>\n', created = 1604042257, expire = 1604128657, headers = '', serialized = 0 WHERE cid = '2:2e70b3ec77ab12e35abfa132ba2ec250' in /home/active5/public_html/drupal6_multisite/includes/cache.inc on line 108.
user warning: Table './active5_foxes/cache_filter' is marked as crashed and should be repaired query: SELECT data, created, headers, expire, serialized FROM cache_filter WHERE cid = '2:2e70b3ec77ab12e35abfa132ba2ec250' in /home/active5/public_html/drupal6_multisite/includes/cache.inc on line 25.
user warning: Table './active5_foxes/cache_filter' is marked as crashed and should be repaired query: UPDATE cache_filter SET data = '<p>It has been a week of backpacks and parks here!</p>\n<p>Josiah left for National Youth Leadership Training on Sunday. The camp is held annually in southern Missouri. We are thankful for the opportunities our boys have to learn about servant leadership through Boy Scouts.</p>\n<p class=\"rtecenter\"><img alt=\"\" src=\"http://www.catchingfoxes.com/sites/www.catchingfoxes.com/files/resize/blog/IMG_3647_0-350x397.jpg\" style=\"width: 350px; height: 397px; border-width: 5px; border-style: solid; margin: 10px;\" title=\"\" width=\"350\" height=\"397\" /></p>\n', created = 1604042257, expire = 1604128657, headers = '', serialized = 0 WHERE cid = '2:2e70b3ec77ab12e35abfa132ba2ec250' in /home/active5/public_html/drupal6_multisite/includes/cache.inc on line 108.
user warning: Table './active5_foxes/cache_filter' is marked as crashed and should be repaired query: SELECT data, created, headers, expire, serialized FROM cache_filter WHERE cid = '2:90fbf0fc9664e755e0863564a9d01fae' in /home/active5/public_html/drupal6_multisite/includes/cache.inc on line 25.
user warning: Table './active5_foxes/cache_filter' is marked as crashed and should be repaired query: UPDATE cache_filter SET data = '<p>This is happening.</p>\n<p class=\"rtecenter\"><img alt=\"\" src=\"http://www.catchingfoxes.com/sites/www.catchingfoxes.com/files/resize/blog/IMG_3510-486x365.jpg\" style=\"width: 486px; height: 365px; border-width: 5px; border-style: solid; margin: 10px;\" title=\"\" width=\"486\" height=\"365\" /></p>\n<p class=\"rtecenter\"><img alt=\"\" src=\"http://www.catchingfoxes.com/sites/www.catchingfoxes.com/files/resize/blog/IMG_3619-486x365.jpg\" style=\"width: 486px; height: 365px; border-width: 5px; border-style: solid; margin: 10px;\" title=\"\" width=\"486\" height=\"365\" /></p>\n<p>We are packing boxes. Loading trucks. Storing belongings. Planning to move.</p>\n<p>If you search for a 2,200 square foot, four bedroom home in the St Louis area on real estate listings, you might find my home. My kitchen counter and my closets and that spot on the couch near the fireplace that I love to sit next to my husband. We are selling our home. It feels surprising even to me as I type the sentence.</p>\n', created = 1604042257, expire = 1604128657, headers = '', serialized = 0 WHERE cid = '2:90fbf0fc9664e755e0863564a9d01fae' in /home/active5/public_html/drupal6_multisite/includes/cache.inc on line 108.
user warning: Table './active5_foxes/cache_filter' is marked as crashed and should be repaired query: SELECT data, created, headers, expire, serialized FROM cache_filter WHERE cid = '2:90fbf0fc9664e755e0863564a9d01fae' in /home/active5/public_html/drupal6_multisite/includes/cache.inc on line 25.
user warning: Table './active5_foxes/cache_filter' is marked as crashed and should be repaired query: UPDATE cache_filter SET data = '<p>This is happening.</p>\n<p class=\"rtecenter\"><img alt=\"\" src=\"http://www.catchingfoxes.com/sites/www.catchingfoxes.com/files/resize/blog/IMG_3510-486x365.jpg\" style=\"width: 486px; height: 365px; border-width: 5px; border-style: solid; margin: 10px;\" title=\"\" width=\"486\" height=\"365\" /></p>\n<p class=\"rtecenter\"><img alt=\"\" src=\"http://www.catchingfoxes.com/sites/www.catchingfoxes.com/files/resize/blog/IMG_3619-486x365.jpg\" style=\"width: 486px; height: 365px; border-width: 5px; border-style: solid; margin: 10px;\" title=\"\" width=\"486\" height=\"365\" /></p>\n<p>We are packing boxes. Loading trucks. Storing belongings. Planning to move.</p>\n<p>If you search for a 2,200 square foot, four bedroom home in the St Louis area on real estate listings, you might find my home. My kitchen counter and my closets and that spot on the couch near the fireplace that I love to sit next to my husband. We are selling our home. It feels surprising even to me as I type the sentence.</p>\n', created = 1604042257, expire = 1604128657, headers = '', serialized = 0 WHERE cid = '2:90fbf0fc9664e755e0863564a9d01fae' in /home/active5/public_html/drupal6_multisite/includes/cache.inc on line 108.
user warning: Table './active5_foxes/cache_filter' is marked as crashed and should be repaired query: SELECT data, created, headers, expire, serialized FROM cache_filter WHERE cid = '2:40015313dd5fff68f189eaa4bce40a6a' in /home/active5/public_html/drupal6_multisite/includes/cache.inc on line 25.
user warning: Table './active5_foxes/cache_filter' is marked as crashed and should be repaired query: UPDATE cache_filter SET data = '<p class=\"rtecenter\"><img alt=\"\" src=\"http://www.catchingfoxes.com/sites/www.catchingfoxes.com/files/resize/blog/Grandpa%3ANathaniel-486x365.jpg\" style=\"width: 486px; height: 365px; border-width: 5px; border-style: solid; margin: 10px;\" title=\"\" width=\"486\" height=\"365\" /></p>\n<p class=\"rtecenter\"><em>Grandpa visiting Nathaniel at the hospital in August</em>, 2013</p>\n', created = 1604042257, expire = 1604128657, headers = '', serialized = 0 WHERE cid = '2:40015313dd5fff68f189eaa4bce40a6a' in /home/active5/public_html/drupal6_multisite/includes/cache.inc on line 108.
user warning: Table './active5_foxes/cache_filter' is marked as crashed and should be repaired query: SELECT data, created, headers, expire, serialized FROM cache_filter WHERE cid = '2:40015313dd5fff68f189eaa4bce40a6a' in /home/active5/public_html/drupal6_multisite/includes/cache.inc on line 25.
user warning: Table './active5_foxes/cache_filter' is marked as crashed and should be repaired query: UPDATE cache_filter SET data = '<p class=\"rtecenter\"><img alt=\"\" src=\"http://www.catchingfoxes.com/sites/www.catchingfoxes.com/files/resize/blog/Grandpa%3ANathaniel-486x365.jpg\" style=\"width: 486px; height: 365px; border-width: 5px; border-style: solid; margin: 10px;\" title=\"\" width=\"486\" height=\"365\" /></p>\n<p class=\"rtecenter\"><em>Grandpa visiting Nathaniel at the hospital in August</em>, 2013</p>\n', created = 1604042257, expire = 1604128657, headers = '', serialized = 0 WHERE cid = '2:40015313dd5fff68f189eaa4bce40a6a' in /home/active5/public_html/drupal6_multisite/includes/cache.inc on line 108.
user warning: Table './active5_foxes/cache_filter' is marked as crashed and should be repaired query: SELECT data, created, headers, expire, serialized FROM cache_filter WHERE cid = '2:d27c09892e426638bc926a8274cc4d8a' in /home/active5/public_html/drupal6_multisite/includes/cache.inc on line 25.
user warning: Table './active5_foxes/cache_filter' is marked as crashed and should be repaired query: UPDATE cache_filter SET data = '<p class=\"rtecenter\"><img alt=\"\" src=\"http://www.catchingfoxes.com/sites/www.catchingfoxes.com/files/resize/blog/IMG_0829-486x332.jpg\" style=\"width: 486px; height: 332px; border-width: 5px; border-style: solid; margin: 10px;\" title=\"\" width=\"486\" height=\"332\" /></p>\n<p>We started our &#39;13-&#39;14 school year today! It&#39;s my 22nd year as a home school mom. That is a bit unbelievable to be honest.</p>\n<p>Growing up in Ohio I never started school before Labor Day so for my internal calendar, we&#39;re right on time even though most of the schools in our community returned weeks ago. Our family accepted the foster pre-adoptive placement of an infant this summer and life has been a bit crazy. I&#39;ll definitely be writing more on this sweet little guy in the future, but for now I want to focus some of my posts on getting our family back into our homeschool routine.</p>\n', created = 1604042257, expire = 1604128657, headers = '', serialized = 0 WHERE cid = '2:d27c09892e426638bc926a8274cc4d8a' in /home/active5/public_html/drupal6_multisite/includes/cache.inc on line 108.
user warning: Table './active5_foxes/cache_filter' is marked as crashed and should be repaired query: SELECT data, created, headers, expire, serialized FROM cache_filter WHERE cid = '2:d27c09892e426638bc926a8274cc4d8a' in /home/active5/public_html/drupal6_multisite/includes/cache.inc on line 25.
user warning: Table './active5_foxes/cache_filter' is marked as crashed and should be repaired query: UPDATE cache_filter SET data = '<p class=\"rtecenter\"><img alt=\"\" src=\"http://www.catchingfoxes.com/sites/www.catchingfoxes.com/files/resize/blog/IMG_0829-486x332.jpg\" style=\"width: 486px; height: 332px; border-width: 5px; border-style: solid; margin: 10px;\" title=\"\" width=\"486\" height=\"332\" /></p>\n<p>We started our &#39;13-&#39;14 school year today! It&#39;s my 22nd year as a home school mom. That is a bit unbelievable to be honest.</p>\n<p>Growing up in Ohio I never started school before Labor Day so for my internal calendar, we&#39;re right on time even though most of the schools in our community returned weeks ago. Our family accepted the foster pre-adoptive placement of an infant this summer and life has been a bit crazy. I&#39;ll definitely be writing more on this sweet little guy in the future, but for now I want to focus some of my posts on getting our family back into our homeschool routine.</p>\n', created = 1604042257, expire = 1604128657, headers = '', serialized = 0 WHERE cid = '2:d27c09892e426638bc926a8274cc4d8a' in /home/active5/public_html/drupal6_multisite/includes/cache.inc on line 108.
user warning: Table './active5_foxes/cache_filter' is marked as crashed and should be repaired query: SELECT data, created, headers, expire, serialized FROM cache_filter WHERE cid = '2:1bfa72168e28c991c5248db28d7ca1f8' in /home/active5/public_html/drupal6_multisite/includes/cache.inc on line 25.
user warning: Table './active5_foxes/cache_filter' is marked as crashed and should be repaired query: UPDATE cache_filter SET data = '<p>She couldn&#39;t concentrate on the work and smile for the camera at the same time. Sunday night pretzels. An Uncle Rich tradition for 20 years and tonight Ellie was assigned the responsibility of helping to make dinner for everyone attending the family reunion.</p>\n<p>They mixed yeast and water and flour in an old pot because the cottage lacked mixing bowls. She learned to improvise when given a new set of circumstances.</p>\n<p class=\"rtecenter\"><img alt=\"\" src=\"http://www.catchingfoxes.com/sites/www.catchingfoxes.com/files/resize/blog/IMG_0496-416x500.jpg\" style=\"width: 416px; height: 500px; border-width: 5px; border-style: solid; margin: 10px;\" title=\"\" width=\"416\" height=\"500\" /></p>\n<p>She may have kneaded dough in the past, but this was new. Every adult uses slightly different words to describe the texture of their dough. She listened attentively. He waited patiently while she learned their new shared language for the task. Sometimes there were no words at all. Just time. And texture. And working together.</p>\n', created = 1604042257, expire = 1604128657, headers = '', serialized = 0 WHERE cid = '2:1bfa72168e28c991c5248db28d7ca1f8' in /home/active5/public_html/drupal6_multisite/includes/cache.inc on line 108.
user warning: Table './active5_foxes/cache_filter' is marked as crashed and should be repaired query: SELECT data, created, headers, expire, serialized FROM cache_filter WHERE cid = '2:1bfa72168e28c991c5248db28d7ca1f8' in /home/active5/public_html/drupal6_multisite/includes/cache.inc on line 25.
user warning: Table './active5_foxes/cache_filter' is marked as crashed and should be repaired query: UPDATE cache_filter SET data = '<p>She couldn&#39;t concentrate on the work and smile for the camera at the same time. Sunday night pretzels. An Uncle Rich tradition for 20 years and tonight Ellie was assigned the responsibility of helping to make dinner for everyone attending the family reunion.</p>\n<p>They mixed yeast and water and flour in an old pot because the cottage lacked mixing bowls. She learned to improvise when given a new set of circumstances.</p>\n<p class=\"rtecenter\"><img alt=\"\" src=\"http://www.catchingfoxes.com/sites/www.catchingfoxes.com/files/resize/blog/IMG_0496-416x500.jpg\" style=\"width: 416px; height: 500px; border-width: 5px; border-style: solid; margin: 10px;\" title=\"\" width=\"416\" height=\"500\" /></p>\n<p>She may have kneaded dough in the past, but this was new. Every adult uses slightly different words to describe the texture of their dough. She listened attentively. He waited patiently while she learned their new shared language for the task. Sometimes there were no words at all. Just time. And texture. And working together.</p>\n', created = 1604042257, expire = 1604128657, headers = '', serialized = 0 WHERE cid = '2:1bfa72168e28c991c5248db28d7ca1f8' in /home/active5/public_html/drupal6_multisite/includes/cache.inc on line 108.
user warning: Table './active5_foxes/cache_filter' is marked as crashed and should be repaired query: SELECT data, created, headers, expire, serialized FROM cache_filter WHERE cid = '2:3d69068a34d2cad421d2747281b413b1' in /home/active5/public_html/drupal6_multisite/includes/cache.inc on line 25.
user warning: Table './active5_foxes/cache_filter' is marked as crashed and should be repaired query: UPDATE cache_filter SET data = '<p class=\"rtecenter\"><img alt=\"\" src=\"http://www.catchingfoxes.com/sites/www.catchingfoxes.com/files/resize/blog/IMG_2454-1%20%28rev%200%29-400x533.jpg\" style=\"width: 400px; border-width: 5px; border-style: solid; margin: 10px; height: 533px;\" title=\"\" width=\"400\" height=\"533\" /></p>\n<p>I have a box of Christmas things marked &quot;OPEN BEFORE THANKSGIVING.&quot; It contains the items we need to celebrate Advent: our wreath and candles, booklets of Advent readings from previous years, our Christmas music CD&#39;s, homemade nativity scenes, and three of our favorite family read-alouds for the Advent season.</p>\n<p><em><a href=\"http://www.amazon.com/Jothams-Journey-A-Storybook-Advent/dp/0825441749/ref=sr_1_1?ie=UTF8&amp;qid=1353953088&amp;sr=8-1&amp;keywords=Jotham%27s+journey\">Jotham&#39;s Journey</a> </em>- A story of young Jewish boy, the son of a shepherd, who gets seperated from his family.&nbsp; In the process of searching for them, he finds the Savior!</p>\n', created = 1604042257, expire = 1604128657, headers = '', serialized = 0 WHERE cid = '2:3d69068a34d2cad421d2747281b413b1' in /home/active5/public_html/drupal6_multisite/includes/cache.inc on line 108.
user warning: Table './active5_foxes/cache_filter' is marked as crashed and should be repaired query: SELECT data, created, headers, expire, serialized FROM cache_filter WHERE cid = '2:3d69068a34d2cad421d2747281b413b1' in /home/active5/public_html/drupal6_multisite/includes/cache.inc on line 25.
user warning: Table './active5_foxes/cache_filter' is marked as crashed and should be repaired query: UPDATE cache_filter SET data = '<p class=\"rtecenter\"><img alt=\"\" src=\"http://www.catchingfoxes.com/sites/www.catchingfoxes.com/files/resize/blog/IMG_2454-1%20%28rev%200%29-400x533.jpg\" style=\"width: 400px; border-width: 5px; border-style: solid; margin: 10px; height: 533px;\" title=\"\" width=\"400\" height=\"533\" /></p>\n<p>I have a box of Christmas things marked &quot;OPEN BEFORE THANKSGIVING.&quot; It contains the items we need to celebrate Advent: our wreath and candles, booklets of Advent readings from previous years, our Christmas music CD&#39;s, homemade nativity scenes, and three of our favorite family read-alouds for the Advent season.</p>\n<p><em><a href=\"http://www.amazon.com/Jothams-Journey-A-Storybook-Advent/dp/0825441749/ref=sr_1_1?ie=UTF8&amp;qid=1353953088&amp;sr=8-1&amp;keywords=Jotham%27s+journey\">Jotham&#39;s Journey</a> </em>- A story of young Jewish boy, the son of a shepherd, who gets seperated from his family.&nbsp; In the process of searching for them, he finds the Savior!</p>\n', created = 1604042257, expire = 1604128657, headers = '', serialized = 0 WHERE cid = '2:3d69068a34d2cad421d2747281b413b1' in /home/active5/public_html/drupal6_multisite/includes/cache.inc on line 108.
user warning: Table './active5_foxes/cache_filter' is marked as crashed and should be repaired query: SELECT data, created, headers, expire, serialized FROM cache_filter WHERE cid = '2:dfaf32a88e154c0127c5b7e08e12fce9' in /home/active5/public_html/drupal6_multisite/includes/cache.inc on line 25.
user warning: Table './active5_foxes/cache_filter' is marked as crashed and should be repaired query: UPDATE cache_filter SET data = '<p class=\"rtecenter\"><img alt=\"\" src=\"http://www.catchingfoxes.com/sites/www.catchingfoxes.com/files/resize/blog/Bridge%20with%20Title-350x415.jpg\" style=\"width: 350px; height: 415px; border-width: 5px; border-style: solid; margin: 10px;\" title=\"\" width=\"350\" height=\"415\" /></p>\n<p>We had the opportunity this fall to visit the Menominee Indian Reservation in Wisconsin with a group of volunteers. We spent a Saturday cutting firewood for the tribe&#39;s senior citizens. As our group processed what it meant to be invited onto the reservation, we were challenged to think of ourselves as bridge builders from one culture group to another, and then further <strong>challenged to think of tangible things we could do to build bridges.</strong></p>\n<p>Our list, written on wood, became an actual bridge of<strong> simple things that establishes and deepens relationships.</strong></p>\n<p>A bridge builder:</p>\n', created = 1604042257, expire = 1604128657, headers = '', serialized = 0 WHERE cid = '2:dfaf32a88e154c0127c5b7e08e12fce9' in /home/active5/public_html/drupal6_multisite/includes/cache.inc on line 108.
user warning: Table './active5_foxes/cache_filter' is marked as crashed and should be repaired query: SELECT data, created, headers, expire, serialized FROM cache_filter WHERE cid = '2:dfaf32a88e154c0127c5b7e08e12fce9' in /home/active5/public_html/drupal6_multisite/includes/cache.inc on line 25.
user warning: Table './active5_foxes/cache_filter' is marked as crashed and should be repaired query: UPDATE cache_filter SET data = '<p class=\"rtecenter\"><img alt=\"\" src=\"http://www.catchingfoxes.com/sites/www.catchingfoxes.com/files/resize/blog/Bridge%20with%20Title-350x415.jpg\" style=\"width: 350px; height: 415px; border-width: 5px; border-style: solid; margin: 10px;\" title=\"\" width=\"350\" height=\"415\" /></p>\n<p>We had the opportunity this fall to visit the Menominee Indian Reservation in Wisconsin with a group of volunteers. We spent a Saturday cutting firewood for the tribe&#39;s senior citizens. As our group processed what it meant to be invited onto the reservation, we were challenged to think of ourselves as bridge builders from one culture group to another, and then further <strong>challenged to think of tangible things we could do to build bridges.</strong></p>\n<p>Our list, written on wood, became an actual bridge of<strong> simple things that establishes and deepens relationships.</strong></p>\n<p>A bridge builder:</p>\n', created = 1604042257, expire = 1604128657, headers = '', serialized = 0 WHERE cid = '2:dfaf32a88e154c0127c5b7e08e12fce9' in /home/active5/public_html/drupal6_multisite/includes/cache.inc on line 108.
user warning: Table './active5_foxes/cache_filter' is marked as crashed and should be repaired query: SELECT data, created, headers, expire, serialized FROM cache_filter WHERE cid = '2:20dfc9dc7d69b4f56a0a7cdf58a1605b' in /home/active5/public_html/drupal6_multisite/includes/cache.inc on line 25.
user warning: Table './active5_foxes/cache_filter' is marked as crashed and should be repaired query: UPDATE cache_filter SET data = '<p><img alt=\"\" src=\"http://www.catchingfoxes.com/sites/www.catchingfoxes.com/files/resize/blog/IMG_5708_0-486x365.JPG\" style=\"border-width: 5px; border-style: solid; margin: 10px; float: left; width: 486px; height: 365px;\" width=\"486\" height=\"365\" /></p>\n<p>&nbsp;</p>\n', created = 1604042257, expire = 1604128657, headers = '', serialized = 0 WHERE cid = '2:20dfc9dc7d69b4f56a0a7cdf58a1605b' in /home/active5/public_html/drupal6_multisite/includes/cache.inc on line 108.
user warning: Table './active5_foxes/cache_filter' is marked as crashed and should be repaired query: SELECT data, created, headers, expire, serialized FROM cache_filter WHERE cid = '2:20dfc9dc7d69b4f56a0a7cdf58a1605b' in /home/active5/public_html/drupal6_multisite/includes/cache.inc on line 25.
user warning: Table './active5_foxes/cache_filter' is marked as crashed and should be repaired query: UPDATE cache_filter SET data = '<p><img alt=\"\" src=\"http://www.catchingfoxes.com/sites/www.catchingfoxes.com/files/resize/blog/IMG_5708_0-486x365.JPG\" style=\"border-width: 5px; border-style: solid; margin: 10px; float: left; width: 486px; height: 365px;\" width=\"486\" height=\"365\" /></p>\n<p>&nbsp;</p>\n', created = 1604042257, expire = 1604128657, headers = '', serialized = 0 WHERE cid = '2:20dfc9dc7d69b4f56a0a7cdf58a1605b' in /home/active5/public_html/drupal6_multisite/includes/cache.inc on line 108.
user warning: Table './active5_foxes/cache_filter' is marked as crashed and should be repaired query: SELECT data, created, headers, expire, serialized FROM cache_filter WHERE cid = '2:620f4096dc79cdc75cd96b44ed3ccafd' in /home/active5/public_html/drupal6_multisite/includes/cache.inc on line 25.
user warning: Table './active5_foxes/cache_filter' is marked as crashed and should be repaired query: UPDATE cache_filter SET data = '<p><img alt=\"\" src=\"http://www.catchingfoxes.com/sites/www.catchingfoxes.com/files/resize/blog/IMG_1570-300x225.JPG\" style=\"border-top-width: 5px; border-right-width: 5px; border-bottom-width: 5px; border-left-width: 5px; border-top-style: solid; border-right-style: solid; border-bottom-style: solid; border-left-style: solid; margin-left: 10px; margin-right: 10px; margin-top: 10px; margin-bottom: 10px; float: left; width: 300px; height: 225px; \" title=\"\" width=\"300\" height=\"225\" />&nbsp;&nbsp; &nbsp; One way I have organized for the holidays is to keep simple file folders where I can stash &quot;stuff&quot; each year. &nbsp;I personally really dislike turkey, so the only time a roasted turkey is on our table is for the holidays. &nbsp;That is not often enough for me to remember roasting details or number of pounds needed per person. So my file folder for Thanksgiving has print out from the internet with all those details.</p>\n', created = 1604042257, expire = 1604128657, headers = '', serialized = 0 WHERE cid = '2:620f4096dc79cdc75cd96b44ed3ccafd' in /home/active5/public_html/drupal6_multisite/includes/cache.inc on line 108.
user warning: Table './active5_foxes/cache_filter' is marked as crashed and should be repaired query: SELECT data, created, headers, expire, serialized FROM cache_filter WHERE cid = '2:620f4096dc79cdc75cd96b44ed3ccafd' in /home/active5/public_html/drupal6_multisite/includes/cache.inc on line 25.
user warning: Table './active5_foxes/cache_filter' is marked as crashed and should be repaired query: UPDATE cache_filter SET data = '<p><img alt=\"\" src=\"http://www.catchingfoxes.com/sites/www.catchingfoxes.com/files/resize/blog/IMG_1570-300x225.JPG\" style=\"border-top-width: 5px; border-right-width: 5px; border-bottom-width: 5px; border-left-width: 5px; border-top-style: solid; border-right-style: solid; border-bottom-style: solid; border-left-style: solid; margin-left: 10px; margin-right: 10px; margin-top: 10px; margin-bottom: 10px; float: left; width: 300px; height: 225px; \" title=\"\" width=\"300\" height=\"225\" />&nbsp;&nbsp; &nbsp; One way I have organized for the holidays is to keep simple file folders where I can stash &quot;stuff&quot; each year. &nbsp;I personally really dislike turkey, so the only time a roasted turkey is on our table is for the holidays. &nbsp;That is not often enough for me to remember roasting details or number of pounds needed per person. So my file folder for Thanksgiving has print out from the internet with all those details.</p>\n', created = 1604042257, expire = 1604128657, headers = '', serialized = 0 WHERE cid = '2:620f4096dc79cdc75cd96b44ed3ccafd' in /home/active5/public_html/drupal6_multisite/includes/cache.inc on line 108.
user warning: Table './active5_foxes/cache_filter' is marked as crashed and should be repaired query: SELECT data, created, headers, expire, serialized FROM cache_filter WHERE cid = '2:a8c0c54497ef81f63b727d0913c771c7' in /home/active5/public_html/drupal6_multisite/includes/cache.inc on line 25.
user warning: Table './active5_foxes/cache_filter' is marked as crashed and should be repaired query: UPDATE cache_filter SET data = '<p>&nbsp; &nbsp;</p>\n<p><img alt=\"\" src=\"http://www.catchingfoxes.com/sites/www.catchingfoxes.com/files/resize/blog/IMG_1541-300x225.JPG\" style=\"cursor: default; border-top-width: 5px; border-right-width: 5px; border-bottom-width: 5px; border-left-width: 5px; border-top-style: solid; border-right-style: solid; border-bottom-style: solid; border-left-style: solid; margin-left: 10px; margin-right: 10px; margin-top: 10px; margin-bottom: 10px; float: left; width: 300px; height: 225px; \" title=\"\" width=\"300\" height=\"225\" /></p>\n<p>&nbsp; &quot;It&#39;s only in expressing gratitude for the life we already have that we discover the life we&#39;ve always wanted....&quot; &nbsp;I love that! &nbsp;I want to live like that - expressing gratitude for the life I have. &nbsp;(Ann Voskamp, <a href=\"http://www.aholyexperience.com/one-thousand-gifts-book/\">One Thousand Gifts</a>.&nbsp;Can&#39;t wait for this book to be released in January!)</p>\n', created = 1604042257, expire = 1604128657, headers = '', serialized = 0 WHERE cid = '2:a8c0c54497ef81f63b727d0913c771c7' in /home/active5/public_html/drupal6_multisite/includes/cache.inc on line 108.
user warning: Table './active5_foxes/cache_filter' is marked as crashed and should be repaired query: SELECT data, created, headers, expire, serialized FROM cache_filter WHERE cid = '2:a8c0c54497ef81f63b727d0913c771c7' in /home/active5/public_html/drupal6_multisite/includes/cache.inc on line 25.
user warning: Table './active5_foxes/cache_filter' is marked as crashed and should be repaired query: UPDATE cache_filter SET data = '<p>&nbsp; &nbsp;</p>\n<p><img alt=\"\" src=\"http://www.catchingfoxes.com/sites/www.catchingfoxes.com/files/resize/blog/IMG_1541-300x225.JPG\" style=\"cursor: default; border-top-width: 5px; border-right-width: 5px; border-bottom-width: 5px; border-left-width: 5px; border-top-style: solid; border-right-style: solid; border-bottom-style: solid; border-left-style: solid; margin-left: 10px; margin-right: 10px; margin-top: 10px; margin-bottom: 10px; float: left; width: 300px; height: 225px; \" title=\"\" width=\"300\" height=\"225\" /></p>\n<p>&nbsp; &quot;It&#39;s only in expressing gratitude for the life we already have that we discover the life we&#39;ve always wanted....&quot; &nbsp;I love that! &nbsp;I want to live like that - expressing gratitude for the life I have. &nbsp;(Ann Voskamp, <a href=\"http://www.aholyexperience.com/one-thousand-gifts-book/\">One Thousand Gifts</a>.&nbsp;Can&#39;t wait for this book to be released in January!)</p>\n', created = 1604042257, expire = 1604128657, headers = '', serialized = 0 WHERE cid = '2:a8c0c54497ef81f63b727d0913c771c7' in /home/active5/public_html/drupal6_multisite/includes/cache.inc on line 108.
user warning: Table './active5_foxes/cache_filter' is marked as crashed and should be repaired query: SELECT data, created, headers, expire, serialized FROM cache_filter WHERE cid = '2:48be9f28bc948ea32b70445d0a590c98' in /home/active5/public_html/drupal6_multisite/includes/cache.inc on line 25.
user warning: Table './active5_foxes/cache_filter' is marked as crashed and should be repaired query: UPDATE cache_filter SET data = '<p class=\"rtecenter\" style=\"\"><a href=\"http://www.facebook.com/CatchingFoxes\" target=\"_blank\"><img alt=\"\" src=\"/sites/www.catchingfoxes.com/files/resize/social/facebook-64x64.png\" style=\"text-align: center; width: 64px; height: 64px; \" width=\"64\" height=\"64\" /></a><a href=\"http://pinterest.com/kimmrankin/\" target=\"_blank\"><img alt=\"\" src=\"/sites/www.catchingfoxes.com/files/resize/social/big-p-button-64x64.png\" style=\"width: 64px; height: 64px; \" width=\"64\" height=\"64\" /></a><a href=\"mailto:kim@catchingfoxes.com\" target=\"_blank\"><img alt=\"\" src=\"/sites/www.catchingfoxes.com/files/resize/social/mail-64x64.png\" style=\"width: 64px; height: 64px; \" width=\"64\" height=\"64\" /></a><a href=\"http://www.catchingfoxes.com/rss.xml\" target=\"_blank\"><img alt=\"\" src=\"/sites/www.catchingfoxes.com/files/resize/social/rss-64x64.png\" style=\"width: 64px; height: 64px; \" width=\"64\" height=\"64\" /></a></p>\n', created = 1604042257, expire = 1604128657, headers = '', serialized = 0 WHERE cid = '2:48be9f28bc948ea32b70445d0a590c98' in /home/active5/public_html/drupal6_multisite/includes/cache.inc on line 108.
user warning: Table './active5_foxes/cache_filter' is marked as crashed and should be repaired query: SELECT data, created, headers, expire, serialized FROM cache_filter WHERE cid = '2:854065b9b61ff8596c8fa62e384317c7' in /home/active5/public_html/drupal6_multisite/includes/cache.inc on line 25.
user warning: Table './active5_foxes/cache_filter' is marked as crashed and should be repaired query: UPDATE cache_filter SET data = '<div class=\"fb-like\" data-font=\"verdana\" data-href=\"http://www.facebook.com/CatchingFoxes\" data-send=\"false\" data-show-faces=\"true\" data-width=\"280\">\n &nbsp;</div>\n', created = 1604042258, expire = 1604128658, headers = '', serialized = 0 WHERE cid = '2:854065b9b61ff8596c8fa62e384317c7' in /home/active5/public_html/drupal6_multisite/includes/cache.inc on line 108.
user warning: Table './active5_foxes/cache_filter' is marked as crashed and should be repaired query: SELECT data, created, headers, expire, serialized FROM cache_filter WHERE cid = '2:602129485ebf5bee3ed24f212c66412c' in /home/active5/public_html/drupal6_multisite/includes/cache.inc on line 25.
user warning: Table './active5_foxes/cache_filter' is marked as crashed and should be repaired query: UPDATE cache_filter SET data = '<SCRIPT charset=\"utf-8\" type=\"text/javascript\" src=\"http://ws.amazon.com/widgets/q?ServiceVersion=20070822&MarketPlace=US&ID=V20070822/US/catcfoxe-20/8001/c4b856b2-bfce-458b-87a4-a444c961a0b1\"> </script><p><NOSCRIPT><A HREF=\"http://ws.amazon.com/widgets/q?ServiceVersion=20070822&amp;MarketPlace=US&amp;ID=V20070822%2FUS%2Fcatcfoxe-20%2F8001%2Fc4b856b2-bfce-458b-87a4-a444c961a0b1&amp;Operation=NoScript\">Amazon.com Widgets</a></noscript></p>\n', created = 1604042258, expire = 1604128658, headers = '', serialized = 0 WHERE cid = '2:602129485ebf5bee3ed24f212c66412c' in /home/active5/public_html/drupal6_multisite/includes/cache.inc on line 108.
user warning: Table './active5_foxes/cache_filter' is marked as crashed and should be repaired query: SELECT data, created, headers, expire, serialized FROM cache_filter WHERE cid = '2:132a8457abcc78748ef29251eaa8f1d7' in /home/active5/public_html/drupal6_multisite/includes/cache.inc on line 25.
user warning: Table './active5_foxes/cache_filter' is marked as crashed and should be repaired query: UPDATE cache_filter SET data = '<p><strong>Catch for us the foxes, the little foxes that ruin the vineyards, our vineyards that are in bloom. </strong><br /><em>Song of Solomon 2:15 NIV</em></p>\n<p>Metaphorically, the &quot;foxes&quot; are the damaging attitudes and actions that can creep in and threaten the love relationship of a couple and a home. &nbsp;Catching Foxes is committed to being a resource as you guard against the things that might injure and destroy the harvest you are striving to grow in your home.</p>\n', created = 1604042258, expire = 1604128658, headers = '', serialized = 0 WHERE cid = '2:132a8457abcc78748ef29251eaa8f1d7' in /home/active5/public_html/drupal6_multisite/includes/cache.inc on line 108.
user warning: Table './active5_foxes/cache_filter' is marked as crashed and should be repaired query: SELECT data, created, headers, expire, serialized FROM cache_filter WHERE cid = '2:fe7b2055d10a2c25c439ca4710d86502' in /home/active5/public_html/drupal6_multisite/includes/cache.inc on line 25.
user warning: Table './active5_foxes/cache_filter' is marked as crashed and should be repaired query: UPDATE cache_filter SET data = '<p><a href=\"mailto:kim@catchingfoxes.com\">kim@catchingfoxes.com</a></p>\n', created = 1604042258, expire = 1604128658, headers = '', serialized = 0 WHERE cid = '2:fe7b2055d10a2c25c439ca4710d86502' in /home/active5/public_html/drupal6_multisite/includes/cache.inc on line 108.
Submitted by kim on Thu, 06/12/2014 - 15:11 in Character Building, Nathaniel's Story
It has been a week of backpacks and parks here!
Josiah left for National Youth Leadership Training on Sunday. The camp is held annually in southern Missouri. We are thankful for the opportunities our boys have to learn about servant leadership through Boy Scouts.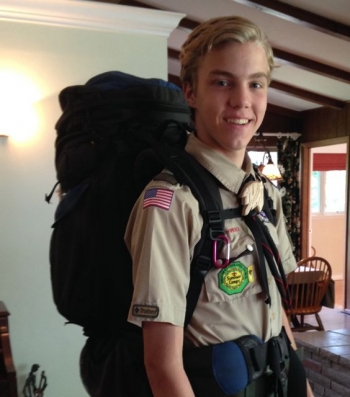 Submitted by kim on Thu, 06/05/2014 - 15:07 in Character Building, Lessons for Mom
This is happening.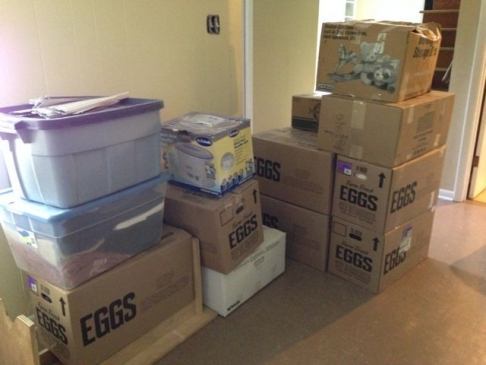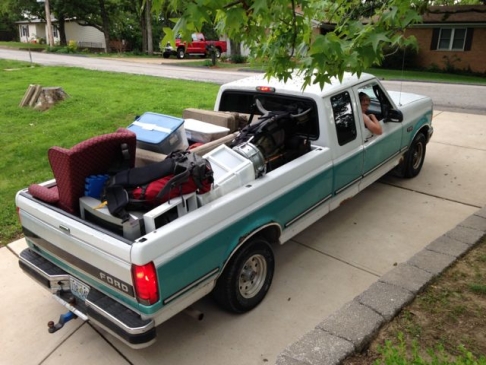 We are packing boxes. Loading trucks. Storing belongings. Planning to move.
If you search for a 2,200 square foot, four bedroom home in the St Louis area on real estate listings, you might find my home. My kitchen counter and my closets and that spot on the couch near the fireplace that I love to sit next to my husband. We are selling our home. It feels surprising even to me as I type the sentence.
Submitted by kim on Thu, 02/20/2014 - 22:02 in Adoption, Character Building, Homemaking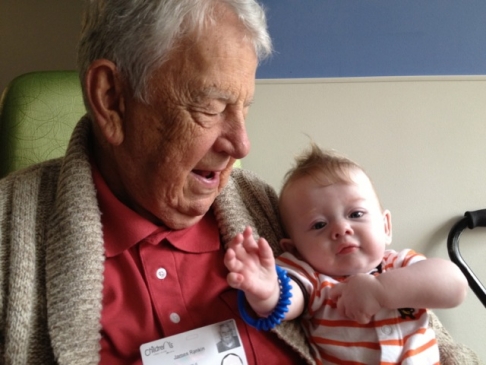 Grandpa visiting Nathaniel at the hospital in August, 2013
Submitted by kim on Tue, 09/03/2013 - 17:00 in Character Building, Homeschooling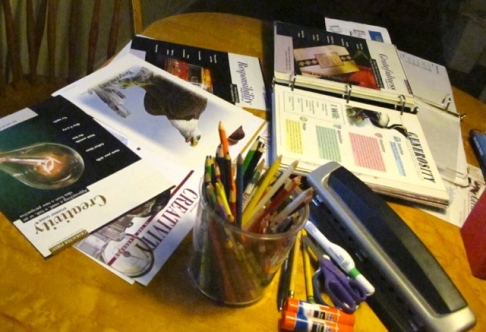 We started our '13-'14 school year today! It's my 22nd year as a home school mom. That is a bit unbelievable to be honest.
Growing up in Ohio I never started school before Labor Day so for my internal calendar, we're right on time even though most of the schools in our community returned weeks ago. Our family accepted the foster pre-adoptive placement of an infant this summer and life has been a bit crazy. I'll definitely be writing more on this sweet little guy in the future, but for now I want to focus some of my posts on getting our family back into our homeschool routine.
Submitted by kim on Mon, 07/22/2013 - 06:17 in Character Building, Recipes
She couldn't concentrate on the work and smile for the camera at the same time. Sunday night pretzels. An Uncle Rich tradition for 20 years and tonight Ellie was assigned the responsibility of helping to make dinner for everyone attending the family reunion.
They mixed yeast and water and flour in an old pot because the cottage lacked mixing bowls. She learned to improvise when given a new set of circumstances.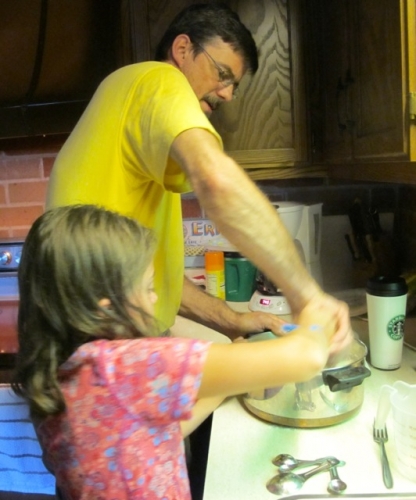 She may have kneaded dough in the past, but this was new. Every adult uses slightly different words to describe the texture of their dough. She listened attentively. He waited patiently while she learned their new shared language for the task. Sometimes there were no words at all. Just time. And texture. And working together.
Submitted by kim on Mon, 11/26/2012 - 12:18 in Character Building, Homemaking, Parenting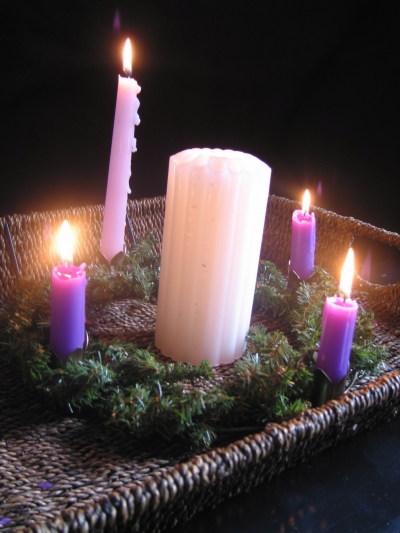 I have a box of Christmas things marked "OPEN BEFORE THANKSGIVING." It contains the items we need to celebrate Advent: our wreath and candles, booklets of Advent readings from previous years, our Christmas music CD's, homemade nativity scenes, and three of our favorite family read-alouds for the Advent season.
Jotham's Journey - A story of young Jewish boy, the son of a shepherd, who gets seperated from his family. In the process of searching for them, he finds the Savior!
Submitted by kim on Fri, 10/26/2012 - 21:56 in Character Building, Marriage, Parenting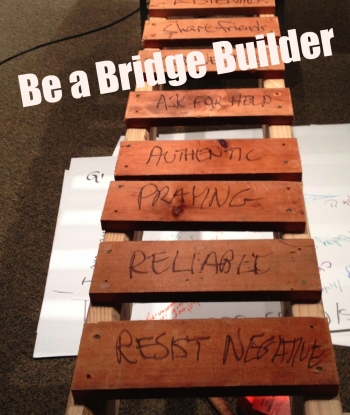 We had the opportunity this fall to visit the Menominee Indian Reservation in Wisconsin with a group of volunteers. We spent a Saturday cutting firewood for the tribe's senior citizens. As our group processed what it meant to be invited onto the reservation, we were challenged to think of ourselves as bridge builders from one culture group to another, and then further challenged to think of tangible things we could do to build bridges.
Our list, written on wood, became an actual bridge of simple things that establishes and deepens relationships.
A bridge builder:
Submitted by kim on Fri, 03/30/2012 - 15:06 in Character Building, Lessons for Mom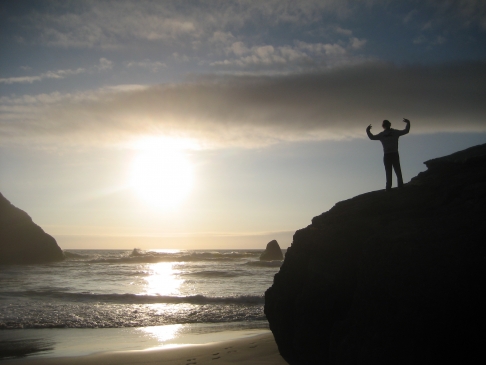 Submitted by kim on Tue, 11/02/2010 - 09:48 in Character Building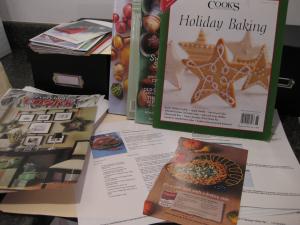 One way I have organized for the holidays is to keep simple file folders where I can stash "stuff" each year. I personally really dislike turkey, so the only time a roasted turkey is on our table is for the holidays. That is not often enough for me to remember roasting details or number of pounds needed per person. So my file folder for Thanksgiving has print out from the internet with all those details.
Submitted by kim on Fri, 10/29/2010 - 09:40 in Character Building
"It's only in expressing gratitude for the life we already have that we discover the life we've always wanted...." I love that! I want to live like that - expressing gratitude for the life I have. (Ann Voskamp, One Thousand Gifts. Can't wait for this book to be released in January!)