Submitted by kim on Fri, 07/04/2014 - 19:09 in Lessons for Mom, Nathaniel's Story
We woke up July 4th morning with no plans. All week we have been asking each other, "What are we going to do for the Fourth?" No one had an answer. Traditionally, our family enjoys going to a local municipality park that hosts a band and then fireworks. We sit close to both. We knew those plans would not work.
Although he has not received a formal diagnoses, Nathaniel appears to have some sensory processing difficulties. It has taken him months to get used to congregational singing at church and if we change were we sit, the new acoustics can send him into a panic. There is no way he could handle our annual front row Fourth outing. But a large red, white and blue clad crowd does offer the opportunity for exposure and hopefully desensitizing. We decided to do our crowd event in the morning by attending a parade.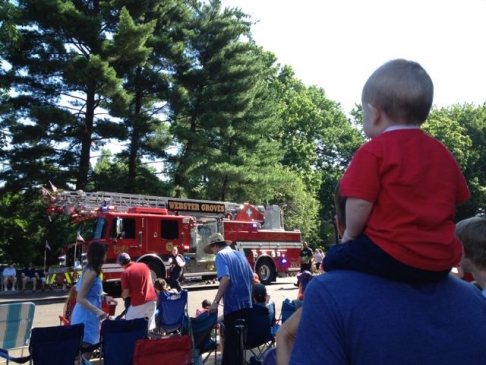 Nathaniel did not smile once during the parade. He was very nervous. The waling fire truck sirens, the revving corvette engines, the crowd clapping... All sent him diving toward Rich's or my arms shaking. But he recovered quickly each time and showed interest in watching more. He would even sign 'more' when there was a lull in the festivities. We were able to input sign language for 'car,' 'horse' and 'music' multiple times; signs we have been working on in speech therapy. It was a good outing. Our occupational therapists would have been proud of him.
I ran to the store while Nathaniel napped and saw a woman carrying a blue baby pool. For some reason, it made me cry. Yep. Right there in aisle ten, I was blubbering. There are so many summer things that Nathaniel can not do. If the humidity is high (Hello? We live in St Louis!), even being outside for a few minutes can mean extra secretions for hours. Between too much time at the hospital recently and too much time avoiding the heat, summer has been a bit frustrating for Nathaniel and me.
I have to preface these next photos with a confession that the very thought of Nathaniel in water can cause me to panic. His trach is a direct opening to his lungs. If his trach would ever submerge, there is nothing from stopping water from filling his lungs. I saw too many close calls as a lifeguard to take drowning risks. Nightly baths are still given in an infant tub. But it was the Fourth of July. And beautiful outside with low humidity. And God delivers us from our fears. I bought a baby pool.
Nathaniel donned his swim trucks and swim tee, and with three lifeguards, he went swimming. Well, some would say he went splashing. There was less than an inch of water in the pool. He started in the "shallow" end created by a slight slope in our yard, but was adventurous and quickly crawled to the "deep" end. I love the fourth photo below. The smile visible on Nathaniel's face from the side. The water splashing. His father and brother's hands ready. Pure summer joy in that photo.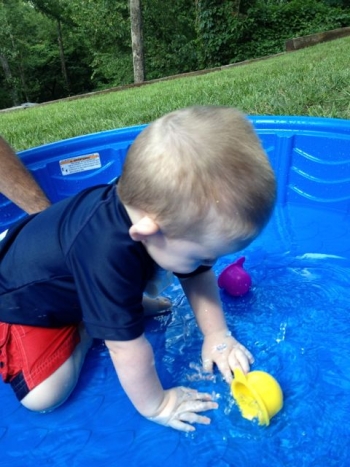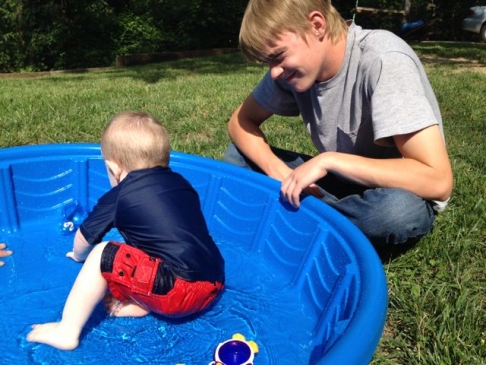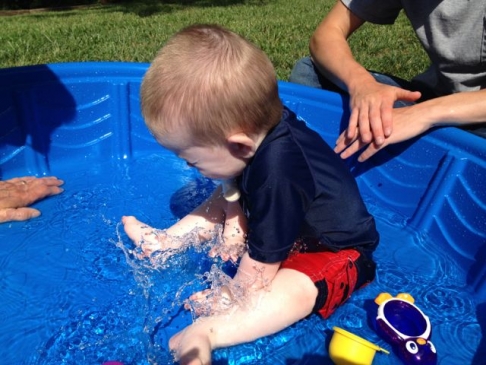 The rest of our day was quiet. BBQ and yummy side dishes. The older boys went off with their friends to enjoy fireworks. Rich and I sat on the floor and played for hours with Nathaniel. He crawled back and forth between us delivering snuggles and kisses. New this week was making the lip smacking noise when he puts his face next to ours. Even these little sounds delight Rich and I; Nathaniel's quietness is becoming more noticeable the older he gets. Some summer in the future perhaps the trach will be gone, our little guy braver, and our Fourth will include pools and bands and booms and Nathaniel's laughter.