Submitted by kim on Fri, 10/26/2012 - 21:56 in Character Building, Marriage, Parenting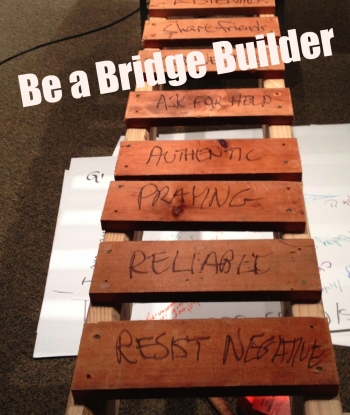 We had the opportunity this fall to visit the Menominee Indian Reservation in Wisconsin with a group of volunteers. We spent a Saturday cutting firewood for the tribe's senior citizens. As our group processed what it meant to be invited onto the reservation, we were challenged to think of ourselves as bridge builders from one culture group to another, and then further challenged to think of tangible things we could do to build bridges.
Our list, written on wood, became an actual bridge of simple things that establishes and deepens relationships.
A bridge builder:
Listens
Has honest hard conversations graciously
Smiles
Ask questions
Forgives
Persevere
Shares meals and times of fellowship
Is willing to help in practical ways
Opens home and frees schedule
Seeks to find points of connection
Asks for help so relationship is a mutual give and take
Is authentic
Prays for the other individual
Demonstrates reliability
Our group focused on building a bridge from one people group to another. But looking at the bridge we made, I couldn't help think of how often we desperately need to build bridges to one another in our homes.
Wife to husband. Husband to wife. Parent to child.
I realized that often in the middle of a conflict in my own home, the last thing I do is smile or ask questions or try to find points of connection.
The stress of daily living and sin can weaken the relationships that connect us. We have to purpose to restore deteriorating bridges before they collapse. What can you do today to build a bridge to someone in your family?
---
Fox Catcher: 2 Corinthians 5:18-19