Submitted by kim on Wed, 12/25/2013 - 21:27 in Homemaking, Recipes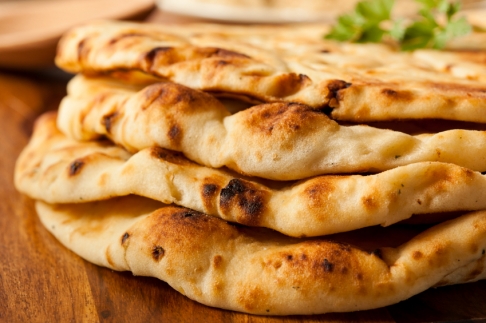 It seems we've always had to cope with our children being away from home on Christmas.
Rich's joint custody agreement allowed each parent alternating years to celebrate the Christmas holiday. When the boys were with us for Christmas, we had them for ten days. Those years coincided with Rich's extended family's Christmas and it usually meant a full week of cousins and meals and fun at Grandma and Grandpa's house complete with tri-colored layered jello that Grandma made in stages over multiple days. The years the boys spent Christmas with their mother we didn't see them for a couple weeks. It was very hard as a young wife and mother to create our own family traditions when the holidays were never consistent one year to the next. Our solution was to celebrate with a "Wise Man Party" mid January. We ate a large elaborate meal, burned frankincense, and gave our children their Christmas presents long after the rush of the season was over.
Around our eighth or ninth year of marriage, extended family dynamics changed and we found ourselves often hosting my out of state family for Christmas. One particular Christmas Eve it started snowing about an hour after our travelers arrived. Within a couple hours, it was blizzard conditions and no one could make it to their hotel that night. I will never forget the warm cozy feeling of having my family in my home despite the fact that many people were sleeping on the floor and our furnace went out at midnight! The Wise Man Party meal was replaced with what would become "my" traditional Christmas dinner as a hostess with signature baked mashed potatoes.
A few years after we moved into our current home, Rich's father came to live with us and my extended family's gatherings at Thanksgiving or Christmas opened up to include members of Rich's extended family. We handled the crowd by moving our family room furniture into the garage and setting up wall to wall tables. Two turkeys and pounds and pounds of those baked mashed potatoes were needed year after year.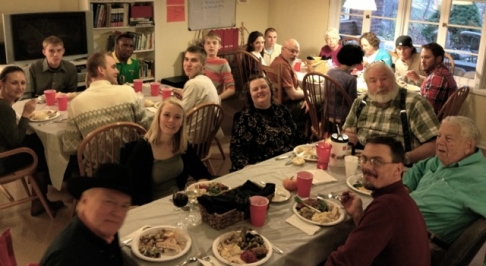 But this year started yet another era. With the medical demands of our new baby, I couldn't entertain a crowd for either Thanksgiving or Christmas. We were blessed to have a smaller gathering with all our children home for Thanksgiving last month, but today finds the Cowboy checking calves in northern Montana and our married children celebrating with their spouses' extended families.
We had just half of our children home today for Christmas. Bah Humbug can creep in when a mom is preparing for only half her brood. Adding to the lack of time and energy is the fact that over the last eleven days the baby has had ten doctor or therapy appointments and one surgery. Christmas needed to be simple, fun, and new so we didn't feel like we were comparing our table for six with the relative rush we've come to assume creates holiday happiness.
We went ethnic: Hummus and Pita chips as an appetizer (both store bought), a quick throw together Lentil Soup, a simple Greek Salad with store bought dressing, homemade Naan (where I put my energy), and store bought Baklava.
It was a huge success in all three categories: simple, fun and new. And while I deeply miss my children who are away from home today, I suspect we've found yet another new Christmas tradition. When just a few can gather around the table, we'll be eating soup and frying up some Christmas Naan.
Christmas Naan (Recipe from my friend Caren)
1 tablespoon yeast
1 cup warm water
1/2 cup sugar
3 tablespoons milk
1 egg, beaten
2 teaspoons salt
4 1/2 cups bread flour
butter
In a large bowl, dissolve yeast in warm water. Let stand until frothy. Stir in sugar, milk, egg, salt, and enough flour to make a soft dough. Knead 6-8 minutes on lightly floured surface. Place dough in a well oiled bowl, cover with a damp cloth and let rise 1 hour.
Punch dough down and pinch off small handfuls (golf ball size) and roll into balls. Place on tray and cover with damp towel and let rise.
Preheat grill to high. Roll dough ball into circle, lightly butter the grill and cook 2-3 minutes on each side or until lightly puffy and browned. Keep warm until served.