Submitted by kim on Wed, 08/08/2012 - 18:16 in Recipes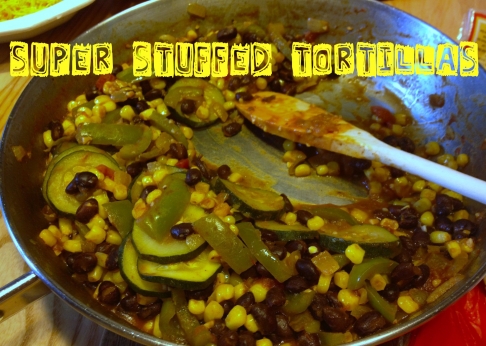 One of my biggest struggles is eating healthy when I live with a lot of guys who prefer meat and potatoes, bread and butter.
It wasn't always like this. When my father moved in three years ago, one of the most dramatic changes that took place in our home was our meal time. His preference for comfort food with lots of butter and my weakness of being a people pleaser resulted in some changes in our family eating. I started serving a lot more meat than we had eaten in the past. A lot more big meals. And a lot more desserts. The net outcome hasn't been good for my waistline.
So I'm trying to do things slightly differently these days. One change is trying to add in a meatless meal each week again, which often means some leftovers for me.
I've enjoyed a new cookbook this summer, Simply in Season. Check it out at the Amazon link to the right. This recipe is from the summer section. It's a great way to use up garden zucchini. And even though Grandpa asked for some leftover meatloaf to go with his dinner tonight, most of us felt it was hearty enough by itself.
Check out the nutritional info below - only 138 calories per serving before you add the flour tortilla and cheese! I skipped those and had a little Greek yogurt on the side - Yum!
Super Stuffed Tortillas
Ingredients:
1-2 cloves garlic
1 large onion
1 green pepper
2 cups corn
1 medium zucchini sliced
1 1/2 tablespoon ground cumin
2 cups black beans
1 cup chicken broth
6 Tablespoons salsa
Flour tortillas
cheddar cheese
Saute garlic in 2 teaspoons oil for 1 minute. Add onion and pepper and saute until crisp tender.
Add corn, zucchini, and cumin. and saute until all vegetables are tender but not brown.
Add beans, broth and salsa. Cook until no excess moisture.
Serve on floor tortillas with cheddar cheese.