Submitted by kim on Wed, 03/19/2014 - 09:50 in Homemaking, Parenting
I've spent the last couple nights scouring Etsy for a little boy's romper and piped collar white shirt for Nathaniel for Easter. A couple decades ago I had the luxury of homemade special occasion outfits for my babies and toddlers. Rich's mom and I would sew them.
We lived with Rich's parents for seven years; my first born was three months old when we moved in and I had three more children before we moved out. I spent a lot of time with Grandma - hours every day tending large vegetable and flower gardens, preparing meals, taking walks in the subdivision across the street, sitting side by side at our sewing machines in the guest bedroom.
When Rich crawled in bed and asked what I was doing last night, I said, "Wishing your mom was still here so we could make Nathaniel an Easter outfit together."
"We have a box downstairs of the outfits you two made," he said, "I'll get them out for you tomorrow."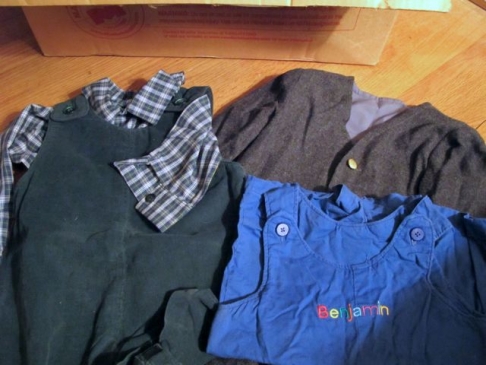 I do not remembered packing away the boys' outfits together in one box, but there they were again. The wool suit Grandma made for Wesley to wear to our wedding. The green corduroy romper and plaid shirt we made for Andrew's first birthday. The similar blue cotton romper for Benjamin's summer birthday.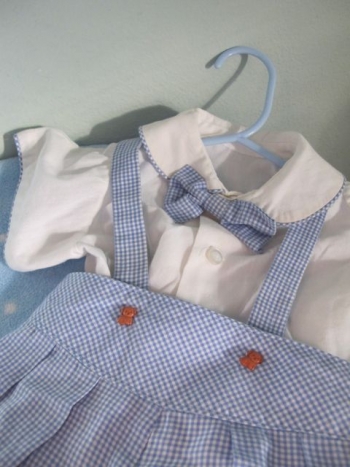 And the gingham piped collar white shirt, sewn-on bow tie, and overalls for Peter's first Easter.
I vividly remember watching Grandma sew on the tiny button and loop, hidden under the collar, so the bow tie would stay in place. Little boys' piped collared shirts take time.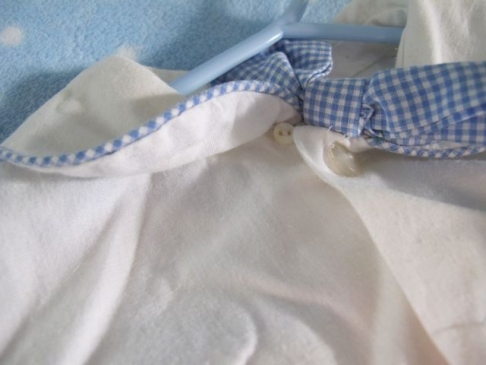 Trying the outfit on Nathaniel caused me to step two decades back in my mothering. When toddler sensory play was something that happened in garden dirt with a kitchen spoon or with scraps of fabric on the sewing room floor rather than something mom pinned on Pinterest.
A lot has changed in parenting world since our now college student Peter fit into this gingham outfit. I am still sorting out exactly what the change is but I have a hunch it has to do with time. Our family, perhaps others, struggle to spend time together in the ways Rich's mom and I spent time together. With our smart phones and texting and social media accounts and Pinterest and Etsy and You Tube and Netflix, do we have the time to sit side by side and make Easter outfits or tend a garden? Do we have time for the children wearing the outfits? It is a question I wrestle with as I compare my parenting of a toddler now to my parenting of a toddler years ago without these distractions.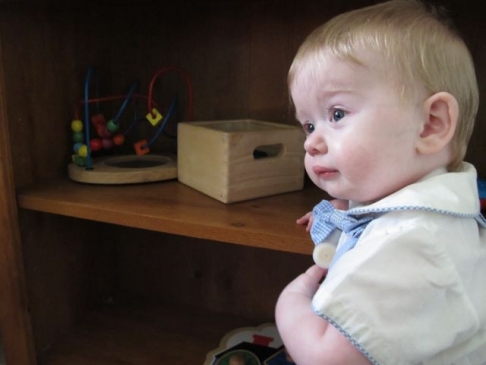 Rich's mom passed away five years ago today. Nathaniel may or may not wear the blue gingham outfit for Easter next month. The bow tie and his trach are battling for the same space. I am not sure I want to alter the outfit. But I think it will at least hang in Nathaniel's closet this spring and summer season. A reminder of the legacy Grandma Rankin left by spending time with those she loved.