Submitted by kim on Thu, 10/04/2012 - 18:25 in Lessons for Mom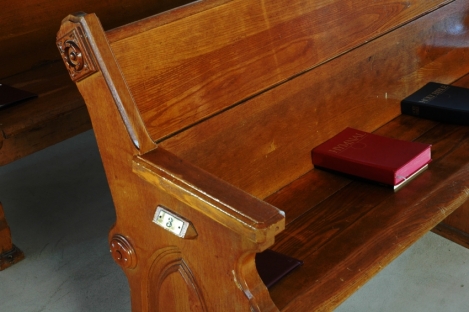 I walked into church smelling like Bath and Body. I made my way to the third row on the left. My family moaned, "Can't we sit somewhere else?"
They pointed out that we had sat in the third row on the left for ten years in two different churches. I smiled, ignored them, and took my seat.
I noticed her directly in front of me and since I knew some of her story, I leaned forward and politely asked of her recent hospital stay. As she updated me on the progression of the cancer into her lungs I pulled back slightly, her suffering too raw. She represented a world I could not comprehend: black, inner city, sexual exploitation, and addiction. And now, a diagnosis of cancer just as she had begun to seek out a new life. I patted her shoulder.
A worship song started. I was rescued.
After a few songs, I sensed that she was crying. During previous songs, she had been clapping, singing, raising her hands in praise. When I realized she was upset, I reached a hand of comfort to her shoulder. It was meant as a sign of love, but it also kept me an arm's distance from her pain.
My eyes glanced down the row. A fellow worshipper caught my eye and motioned with his hand for me to go around to stand next to the weeping soul. As I did, and she sensed my nearness, she almost collapsed into my arms.
I had never had an adult woman cling to me and sob so hard. The words in the song seemed to give her permission to feel the pain, suffering and brokenness of her life. I was not comfortable. I didn't know what to do to "fix" this for her.
Still holding her with my left arm, I put my right hand up on her face and head to cradle her. I wiped her tears with my thumb; stroked her cheek. The more intimate my touch, the harder she sobbed. My own breath caught in my own throat. My own chest heaved a sob of sympathy. To hold such brokenness against my chest ripped it wide open.
Worship continued, "If your heart is broken..... just lift your hands and say....I know that I can make it...." I realized she didn't need me to fix anything, but just to help her worship.
I had never raised my hand in worship. Her delicate black hand in mine, raised in the air, is something I will never forget. Without words, with our simple gesture, she testified her faith in Jesus would carry her through.
As we sang the song a second time, her sobs increased, but so did her grip on my hand above our heads. I think this is how I would like to picture a Christian's walk - giving testimony to Christ's sufficiency in the gentlest way possible through the moments of deepest pain.
I walked out of church smelling like cigarette smoke. Holding her had replaced my body spray with her scent, and it lingered on my shirt.
I liked the reminder of her pain entrusted to me.
Her weakness, her transparency, her need, her cigarette smell - she shattered my Christian facade. By letting me scoop her brokenness into my arms, she revealed the similarity of our hearts. That revelation cost me everything.
I had to move out of the third row.