Submitted by kim on Thu, 07/03/2014 - 02:02 in Nathaniel's Story
We met Nathaniel a year ago this morning.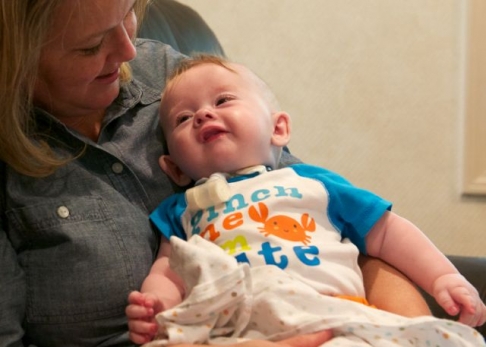 I do not remember now what I knew about tracheotomies before last summer. Probably that they were used as emergency airways. Maybe some faint recollections of ink illustrations in a Red Cross First Aid Manual. Before Nathaniel I did not know that babies received tracheotomies or that a baby could leave a hospital with one or that a baby could breath for a year and a half through a 3.5 mm tube.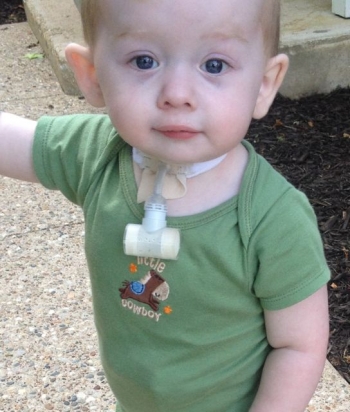 A year ago I did not how to determine if Nathaniel's secretions were thick or thin. Or if he needed suctioned. I did not know how to pack an emergency airway bag or how use the items in the one packed for me. I had never seen a baby turn gray. A year ago I sat on a hospital couch and wept because I did not believe the nurse practitioner who promised me I would soon know this baby better than her. Then - I did not know how to get here.
Now - it is hard to remember how we got here. How did we get so comfortable with his coughs? His heart rate drops? When was it that changing his trach tube no longer made me shake? What day did I start to trust my observation of him more than his numbers on the monitor? Or he start to trust us? Where were we the first time Rich turned him upside down and made him belly laugh so hard he could not breath but it did not scare us?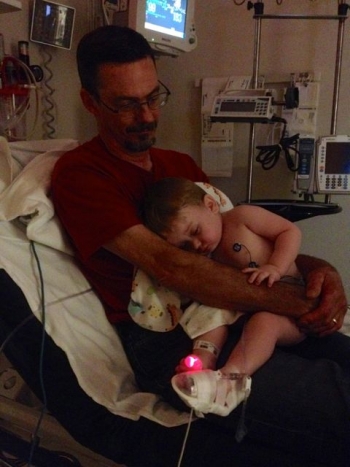 Today feels like it should be a celebration. We've known Nathaniel for a year. But much like every day of the past year, moments of joy are tempered with the reality of Nathaniel's medical conditions and ongoing needs. I have been awake since five this morning listening to how Nathaniel responds to a new nurse. The agency's nursing supervisor is coming at eight to review his chart and recent hospital discharge orders. There is a nurse interview at nine. Physical therapy at eleven-thirty. Three breathing treatments to give. A phone call to make about his new leg braces. Trach ties to change. Oral feedings to practice. When in the day full of being Nathaniel's parents will there be a moment to celebrate becoming his parents?
As if on cue, I type those words and Nathaniel's oxygen monitor alarm goes off. Despite all I have learned in this last year, my heart rate instinctively increases at the sound. But it also reminds me of how we got here. God's grace. Given minute by minute. Given when seconds mattered. Grace that made gray skin turn pink again. Grace that fit each day together with room for smiles. We got to a year by God's grace. Each 3.5 size breath that comes today will be God's grace. Nathaniel breathing is our celebration of grace.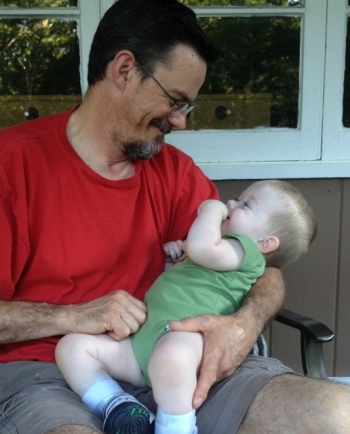 First photo taken by Clint Thayer Focal Flame Photography