Submitted by kim on Fri, 02/28/2014 - 19:17 in Nathaniel's Story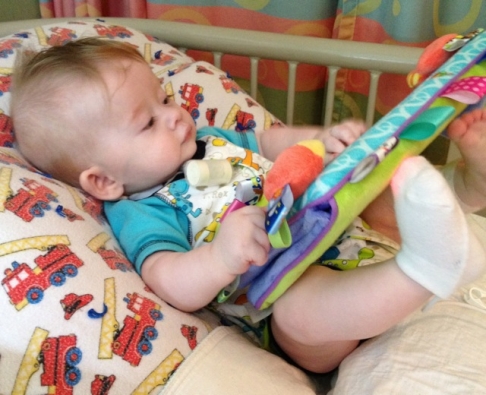 I needed Nathaniel. It's all sugar sweet and lovely to think about adoption simply as orphans needing families and loving families stepping in, but there is more to the story.
More to my story anyway.
Since becoming a Christian, I've questioned why God made me as He did. Try as hard as I could, I never seemed to fit into the mold being held up for Christian women. Quiet and gentle spirit? Nope! I'm a little bit to comfortable standing on the surround bench of our living room stone fireplace and shouting into a crowded room of party goers that I want their attention and I have something important to say. Yes, that just happened a few Saturdays ago.
So while I believe and write passionately about Nathaniel's genetics being just as God wanted them to be, I had serious doubts that God got things right when He was overseeing the division of my chromosomes.
Truth is authentic Kim isn't very quiet.
She's kind of assertive, strong-willed, and not afraid of a fight. She still loves being a cheerleader, now for her husband and children rather than the high school football team. She's not afraid to give her opinion or to ruffle feathers. "A difficult person," I think is how someone put it a few years ago, with a lot of added inflection that implied those three words were not a compliment and changing might be a good idea.
But it's hard to change your whole personality. Especially when God created it for a purpose.
Nathaniel's case manager had emailed that "the team would like to meet with you." I had no idea who the team was, but when I walked into the room I was offered a chair at the end of a long conference table with people lining both sides. The questions started without introductions. "Why did you change his pulmonologist?" "When is his bronchoscopy?" "Are you intending to use the same nursing agency that staffed the first night?" "Are you capable of interviewing and finding better nurses?" "Can you clarify all his medical diagnosis and which ones Ranken Jordan is addressing?"
After an hour and a half, the final question. Not directed at me, but at the phone in the middle of the table and the doctor conferencing in from Ranken Jordan. "Please understand Kim is sitting right here, but we need your evaluation: Do you feel Rich and Kim have the competency to be Nathaniel's parents and do they show a genuine interest in continuing as his foster-adoptive family? Or should we be looking for a new family?" The doctor replied with her assessment.
Immediately the man seated to my right who had been especially engaged in the questioning stood. "I will make a recommendation to the judge that we continue Nathaniel's placement with the Rankin's." He shook my hand, offered his cell phone number, and finally introduced himself. "I'm Nathaniel's state appointed lawyer. Keep up the good work. Call me if you need anything."
Day thirteen I walked out of my first Children's Division Family Support Team meeting thankful that God made me kind of assertive, strong-willed, and not afraid of a fight. A little boy waiting in a hospital bed needed that in a Mom. And I need him.