Submitted by kim on Mon, 06/25/2012 - 12:20 in Parenting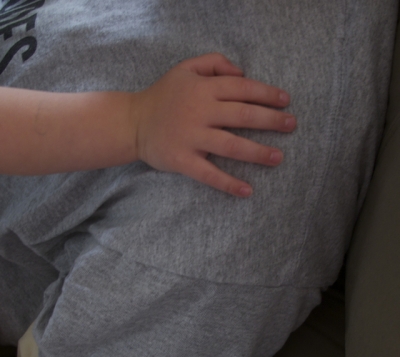 There are few things that annoy a parent more than a child constantly interrupting.
We've all experienced it. We're in the middle of a conversation with another adult and our child seems to need us every minute and a half. From the parent's perspective, even the most polite and necessary requests can get annoying. From the child's perspective, the need is real and urgent. Both parent and child want something.
James 4 tells us that quarrels and fights start because we want something and do not get it. If we are to catch the foxes that ruin the fruit of the home, we have to find a way our children can respectfully signal they need attention.
Around the birth of our fifth child we learned about the interrupt rule. We instructed our children that if they needed us when we were speaking to someone else, adult or child, in person or on the phone, they were to quietly place a hand on our shoulder. In the event we were standing, the child could do the same to our forearm. By maintaining their contact, we would understand they had a need. We taught them not to speak, but rather wait patiently until a natural break in our conversation allowed us to politely excuse ourselves and address their need.
If I was delayed in getting to them, I would often place my hand on top of theirs as a silent signal that I understood they needed me and was going to be with them as soon as possible.
We did not tolerate continual tapping, squeezing, of persistent vocal calls for help. Children who resorted to these tactics where not given our attention to their concern, but rather instruction on the proper use of the interrupt rule and encouragement to try again in a few minutes. The interrupt rule encourages self-control and respect of others.
There are a few times when an interruption is to address an emergency. In our home, blood, fire or someone headed into either constituted an emergency. A younger sibling taking a toy was not an emergency! We discovered that with instruction and consistent use of the interrupt rule, the rare emergency moments were communicated clearly and respectfully as well.
The interrupt rule works great between mom and dad too. Rich and I have placed a hand on the other's forearm at small group bible studies, church socials, or when one of us is reading to the children. It is a polite way to signal the engaged parent's attention is needed as soon as possible.
By anticipating we will need to be interrupted at times and having a plan to handle such respectfully, frustration can be reduced for everyone.