Submitted by kim on Wed, 10/10/2012 - 13:31 in Homemaking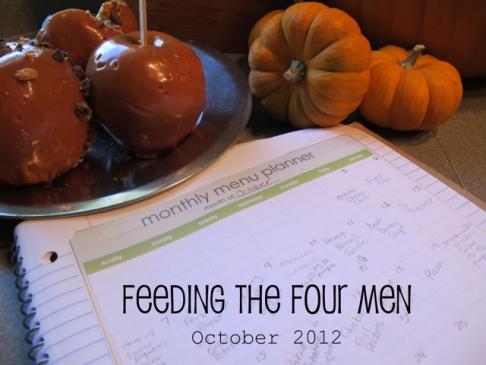 It's soup weather! I've been pulling together menu plans for October and am so excited for soups. The boys and I just ate the leftovers of Friday night's White Chicken Chili - one of my favorites.
Here's my start to the menu for this month. It's a work in progress, so check back again!
Meals marked with an * are my own recipes. I hope to add them soon.
Notice I put the desserts on top! With all the beautiful fall pumpkin flavored baked goods and special dishes on Pinterest, who can resist making a few?
Carmel Apples - This was an impulse purchase when shopping with my youngest last weekend. I'll be going back to the old fashion Brach's caramels that I have to melt.
Pumpkin Pie White Hot Chocolate
Pumpkin Bread*
Pumpkin Ice Cream Pie* - in the freezer now. LOOKS AMAZING!
White Chicken Chili, chips, Avocado Salsa
Mexican Lasagna*
Fried Rice with Ham
Pork Roast* and Baked Potatoes
Beef Barley Soup*
Skinny Chicken and Broccoli Alfredo - VERY YUMMY! This was a new find this month and will become a staple. The men liked it, and it was light enough that I didn't feel guilty eating it.
Sausage and Bean Soup with Pasta
Roasted Veggies and Salmon
Cheese Ravioli
Spaghetti and Meatballs
Baked Potatoes Night