Submitted by kim on Fri, 10/29/2010 - 09:40 in Character Building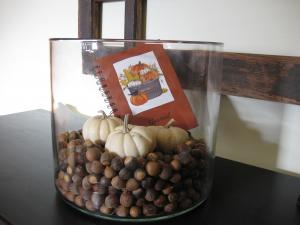 "It's only in expressing gratitude for the life we already have that we discover the life we've always wanted...." I love that! I want to live like that - expressing gratitude for the life I have. (Ann Voskamp, One Thousand Gifts. Can't wait for this book to be released in January!)
For the month of November, our family will be keeping a Thankfulness Journal. My plan is for each person to record something about their life that they are thankful for each day. We will do this at our Proverbs reading time, though I know at first everyone might need more time to think of something to share in this public diary. Hopefully, the idea of needing to come to the table with something prepared will catch on quickly. While we normally read Proverbs aloud, I am going to change that a bit too and have each person read silently as the journal is passed. Then we will discuss verses we found in that teach us about thankfulness.
I purchased the journal off the dollar rack at Michael's Craft Store. I loved this craft idea for a Gratitude Board which would make a Thankfulness journal much prettier and something worth displaying! For some reason, I think all this pretty paper and ribbons would make my house of men roll their eyes, so I am going for simplistic.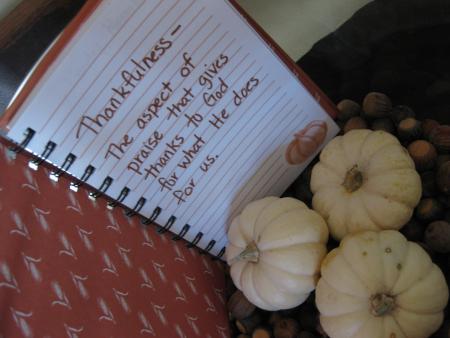 I wrote our working definition of Thankfulness on the first page: the aspect of praise that gives thanks to God for what He does for us. Each page is then numbered for a day of the month. I decided to set the journal in a prominent place in one of my fall displays so as we pass by it, we are reminded of the purpose: expressing gratitude for the life we already have. I am really excited for Monday to get here and start Proverbs afresh!