Submitted by kim on Thu, 01/31/2013 - 23:55 in Adoption, Parenting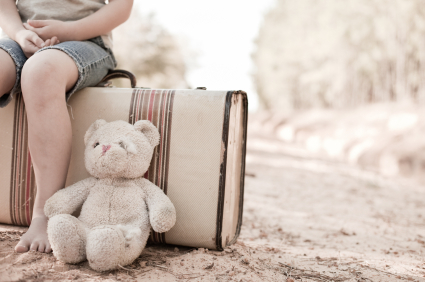 The Facebook message from my friend, Beth, caught me off guard.
She wrote, "Do you remember that my mom is an adoption worker? She has a very special little girl that needs to be adopted. I have no idea if adoption is in the realm of possibilities for you guys, but when Mom talked about the ideal family for this little girl and asked if I could think of anyone at church that might be interested in adopting, God brought you to mind. Mom was in such agreement that you guys could be a great fit that I had to let you know. If interested, contact my mom."
I read the message aloud to Rich. "Have we met Beth's mom?" I asked him. "Did you know she was an adoption worker?"
We retraced how our lives have crossed. She attended Beth's baby shower that I hosted in our home over a year ago. Our family helped them moved last spring. Beth and her husband looked out for our boys three years ago when we were away for a weekend. We had no idea our marriage, parenting skills, and children were being observed during these encounters. We had no idea Beth's mom was an adoption worker.
I read the note over and over in the same way I remember looking at the at-home pregnancy test wands repeatedly. "I have no idea if adoption is in the realm of possibilities for you guys…"
The Missouri foster/adopt application has been in our linen closet since June 2009. I've read One Thankful Mom's reflections on their family's adoption process for years. Every time our pastor mentioned adoption as a way of showing Jesus' love to some of the most marginalized in our society, Rich would glance my way. But in the time between the sermon and arriving home where we could fill out the application, we would convince ourselves that adopting an orphan at our stage of life was too radical.
We asked for more information. Not really very radical. We prayed. We shared the information with our kids. "Radical?" we asked them. "Perhaps. But let's take the next step" We prayed. We waited. We received more information. We talked to our children again. We talked to our siblings. To a handful of life-long friends. To other adoptive parents. To our pastors. To our parents. To each other. And mostly to God.
We opened our bibles to read the next day's verses. We marveled. The verses before us illustrated Jesus' response when a messenger came with news that a little girl needed him, Mark 5:21-24. Despite the crowd pressing in, despite those who would mock and laugh, Mark 5:40, Jesus responded to the call and moved towards her.
We took the application out of our linen closet and filled it out.
In many ways, I feel like I'm in the first trimester of a pregnancy. Instead of daily nausea and monthly doctor's appointments, I have piles of paper work to complete, state classes to attend, books to read, and home visits with social workers to schedule. I'm old and experienced enough to know the first trimester is a time when there's no guarantee a pregnancy will last. I dream of what color to paint her room one minute and then wonder the next if I'll ever see her face to face. Much could happen in the months to come.
May we be only as radical as Jesus. Responding to the call. Moving towards the little girl.
---
Photo Credit: The above photo was purchased through IStockphotos. The child in the photo is not the girl I have written about above.