Submitted by kim on Tue, 11/02/2010 - 09:48 in Character Building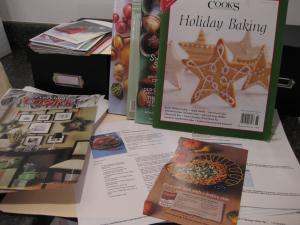 One way I have organized for the holidays is to keep simple file folders where I can stash "stuff" each year. I personally really dislike turkey, so the only time a roasted turkey is on our table is for the holidays. That is not often enough for me to remember roasting details or number of pounds needed per person. So my file folder for Thanksgiving has print out from the internet with all those details. There is also a advertisement for Campbell's Cream of Mushroom which I tore out of some magazine with the recipe - another Thanksgiving standard that I never remember exactly how much milk to add. I love tearing pages out of magazines! It is one way I fight clutter. Rather than keeping a whole magazine for one good decorating idea or recipe, I tear out the pages I find interesting and file them in appropriate file folders or binders. My Thanksgiving folder also contains a keepsake. For some reason, my fourteen son wrote our menu and shopping list for Thanksgiving last year and I just love having this keepsake. Not only to remind me of what Thanksgiving last year looked like, but also seeing his writing.
My Christmas folder was my first attempts at household organization. I love looking through it each year. While I have kept a few Christmas themed magazines from years past,gain, this folder is full of recipes and lists of years gone by. I also have a stack of pages torn out from pages of catalogs that I use for decorating ideas. I stash a copy of each year's Christmas letter in the folder, so I can remember what far-away friends and family knew last about our home. It always makes me cry to re-read them and see how our family has changed. As you read your magazines and scan the internet this season, start gathering for your own holiday file folders!
If you have little ones in the house who want their own Thanksgiving File Folders, look here for some fun games you can create!