Submitted by kim on Mon, 10/20/2014 - 20:22 in Nathaniel's Story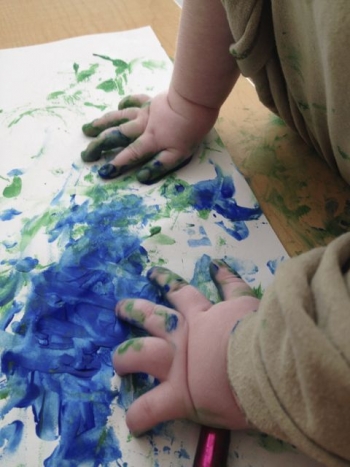 Nathaniel was scheduled for hand surgery the last week in September. He was diagnosed last spring with "Thumb in the Plane of the Hand" on his right hand. It is exactly what it sounds like - his right thumb is in the same plane as his other fingers on his hand. He does not have thumb opposition with the right hand and the web space between the thumb and index finger is not as deep or wide as it needs to be. The finger painting photo above shows the abnormality pretty well. Consequently Nathaniel's grip with his right hand is very different. He tries to hold things between his index and middle finger using the thumb and index as a claw. Frequently he initiates play or grasping with his right hand and then transfers to his left. More often he just lets his right hand rest and uses his left as the photo below, taken last week in the St. Louis Children's Zoo, shows.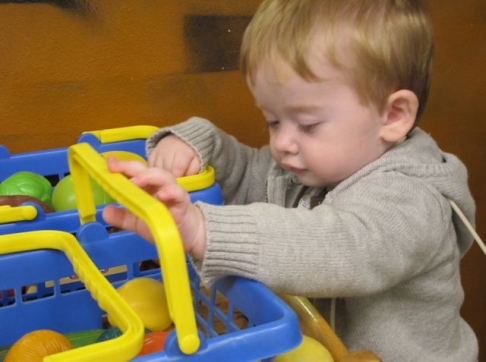 We were fortunate to already have a relationship with a hand surgeon before Nathaniel joined our family. Peter needed a minor hand surgery years ago. I did not know about the
surgeon's expertise in hand birth abnormalities
then. Another one of God's provisions for Nathaniel that this physician is local and we already knew him. He suggested we correct the thumb sooner rather than later so that Nathaniel has fewer compensation habits to overcome. Nathaniel has not demonstrated hand dominance yet and for all we know his brain might be wired to be right hand dominate. The earlier we can get a more fully functioning right hand the better. Unfortunately, Nathaniel was in PICU with his respiratory infection on surgery day. His primary care physician requested we postpone surgery until spring to keep Nathaniel away from the hospital during flu and cold season. We will make a decision next spring about the timing for corrective surgery.
In preparation for surgery, I began talking with Nathaniel about his hands and fingers. I found a few library books specifically about hands that we enjoyed reading together. He loves Aliki's book on hands. Our speech therapist encouraged me to build on the theme and work on identifying body parts this fall.
Below is a list of books that I have found at our library to share with Nathaniel. If Karen Katz would write a book called "Where is Baby's G-Button and Trach?" we would be all set! All of these books are read with pauses for discussion and identification.
I have also enjoyed incorporating some singing games into our daily diaper changing, bath, and play routines.
Tune: Here we go around the Mulberry Bush
This is the way I touch my _______.
(point to body part on Nathaniel and self)
Touch my _______.
Touch my _______.
This is the way I touch my _________.
Early in the morning.
Tune: Mary Had a Little Lamb Tune
Nathaniel has a little ______.
(point to body part on Nathaniel)
Little ______.
Little ______.
Nathaniel has a little _______.
That is so fun to _______. (tickle, kiss, touch, tap, pinch…)
Tune: Where is Thumbkin?
Where is your ______?
(Point on self; allowing Nathaniel to mimic action on himself)
Where is your ______?
Here it is! (Point!)
Here it is!
Touch it with your finger.
Touch it with your finger.
Just like me.
Just like me.
Lastly, because we are wanting to encourage a multi modal approach to alternative communication, I created a file folder game using Nathaniel's talker symbols for body parts. Nathaniel selects a laminated symbol square and I tickle (kiss, point to, etc) that body part.