Submitted by kim on Thu, 06/12/2014 - 15:11 in Character Building, Nathaniel's Story
It has been a week of backpacks and parks here!
Josiah left for National Youth Leadership Training on Sunday. The camp is held annually in southern Missouri. We are thankful for the opportunities our boys have to learn about servant leadership through Boy Scouts.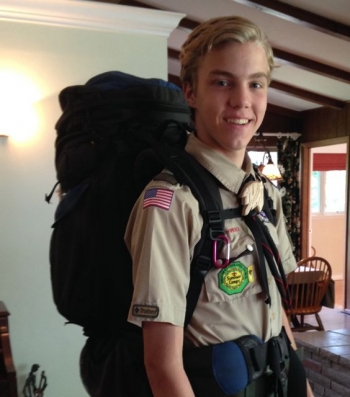 Peter left Tuesday for two weeks of backpacking at Philmont High Adventure Scout Ranch in New Mexico. This is Peter's third time to Philmont; this year as an adult leader for five youth in our troop. Standing on the Amtrak train platform watching the other moms say goodbye to their sons was different this year. Easier in some ways because I have sent my children off on many adventures in recent years. But harder in some ways because my son is in a leadership position - the only one on his trek who has Philmont experience. It weighs on a mom's heart when sons carry not just gear on their shoulders, but responsibility for others.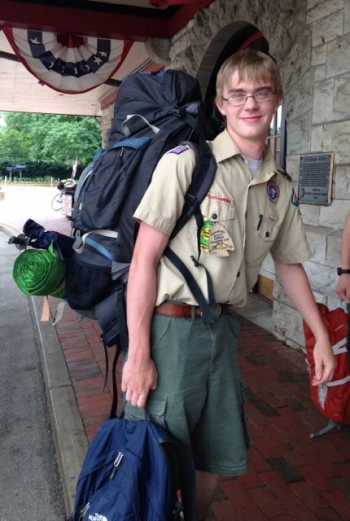 And then a backpack adventure for the little guy. Since Nathaniel started walking I have spent a lot of time every day at the end of his g-tube line carrying the bag and pump.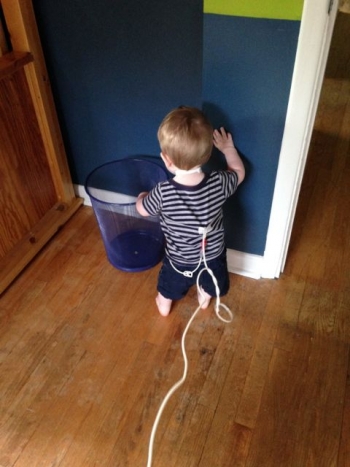 I decided it was time for him to start carrying some weight around here! I have been offering Nathaniel finger foods for breakfast, lunch, and dinner followed by his g-tube feeding while still in his high chair. Some days he is content to sit in his high chair for the entire g-tube feed, which takes about an hour. Other days he wants down quickly. Getting down before his feed ends now means wearing his pack.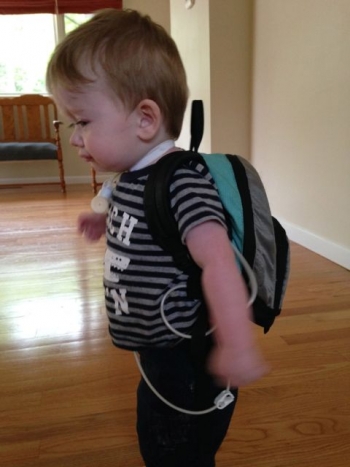 A few months ago, Nathaniel could not sit up with the weight of his feed pump on his back. And while he did not like it the first day, he could stand. His balance was off when he tried to walk and he kept falling. There were lots of tears. He is managing better every day. Today the presence of the pack hardly seems to phase him.
Another new experience this week for Nathaniel has been visiting playgrounds. He is very timid. A friend pointed out that most big metal apparatuses in Nathaniel's life have been pieces of medical equipment and have brought frightening situations. Yesterday I sat at a playground for a couple hours while Nathaniel ran back and forth between touching the equipment and hiding behind me. These photos show him at his bravest moments - longer periods of exploration. Our playground experiences are very real evidence of how different Nathaniel's life has been from the other eighteen month olds at the playground who climbed and went down the slide and laughed loud as they jumped on the swaying walkway. Nathaniel's life experiences have made him a cautious little guy. But a little guy that is working everyday to overcome.